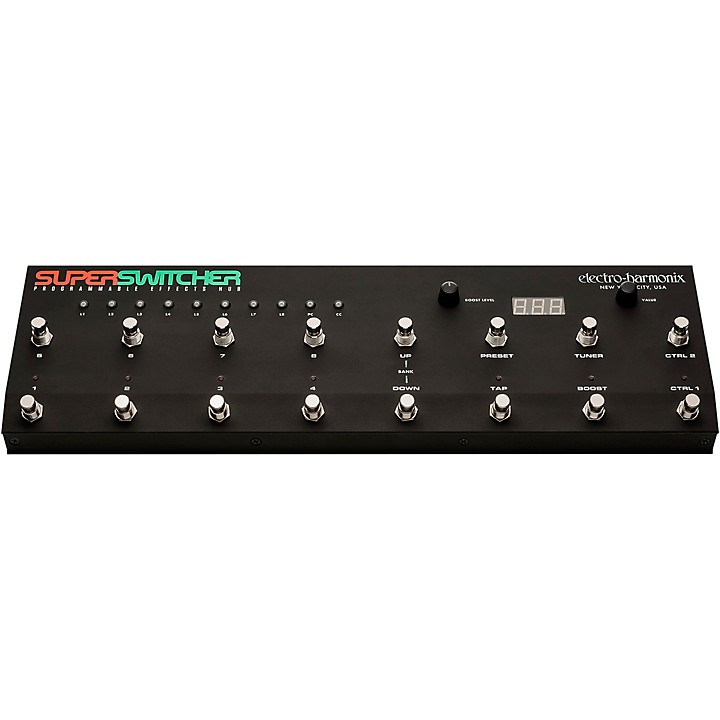 Ditch the dance and get your pedals in order.
The Super Switcher Programmable Effects Hub, as its name implies, offers a powerful solution for players who are tired of "tap dancing" around their pedalboard. In effect, it moves all of your pedals to your pedalboard's front row while delivering control of them with one button push. The result is that it puts the player back in control of an unruly pedalboard.

It's also perfect for any guitarist using the "four-cable method" because it makes it easy to properly route effects that should go in front of an amp and those that are best in the effects loop.

When it comes to live performance, the Super Switcher can efficiently organize presets into banks that are easy to recall and match your show's setlist. If you're playing to a click track and want to have the presets recalled via MIDI programmed to a song, the Super Switcher can handle that, too. It's also a great way to sync time-based effects to the same master clock.

Specifications
Extensive I/O maximizes flexibility and control.
Features mono and stereo send/return, insert send/return and mono/stereo out
Equipped with tuner and tap tempo outs, MIDI In & Out and more
Features eight mechanical-relay controlled, true bypass loops
Provides 128 presets: 16 banks with 8 presets each
Tap footswitch sets the BPM
The Super Switcher can be configured to send/receive MIDI clock and send tap signals to the output
BPM can be global or per preset
Tuner footswitch sends the input signal to the tuner out and cuts off the signal from any loops or output
Boost footswitch engages a knob adjustable, output gain Boost on both the left and right channels