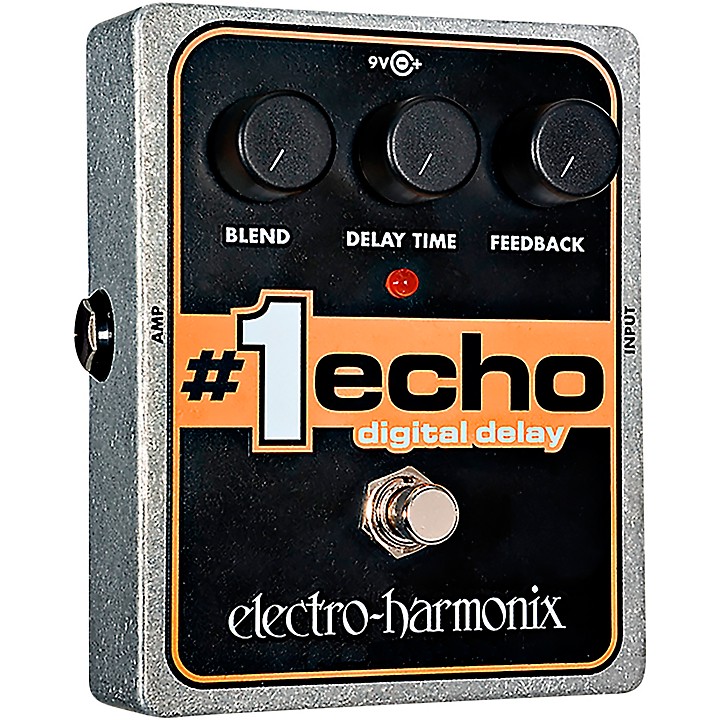 Digital delay with good ol' EHX analog tone.
The #1 Echo is part of the Electro-Harmonix line of Micro (xo) guitar effect pedals, with a small die-cast housing. But don't let the size deceive you - it produces some of the finest digital echo available, with a full two seconds(!) of maximum delay time. Echo/delay effect is controlled by feedback and delay time knobs. A blend control lets you adjust the amount of delay in your signal to make sure the Micro #1 sits exactly where you want it in any track or performance.

A rugged footswitch selects whether the #1 Echo pedal is engaged or bypassed, indicated by an LED. When in Bypass mode, the output jack is connected to the input jack through a buffer. It's equipped with standard 1/4" instrument I/O jacks. The barrel connector is for a 9-volt battery eliminator capable of delivering 100 mA of current. The inner ring of the 9-volt battery eliminator must be negative, the outer ring positive. The unit's battery may be left in or taken out when the eliminator is in use.
Features
Up to two seconds of delay
Blend control
Delay Time control
Feedback control
On/off footswitch
LED indicator
1/4" input and output jacks
Buffer bypass
Battery or included AC adapter power