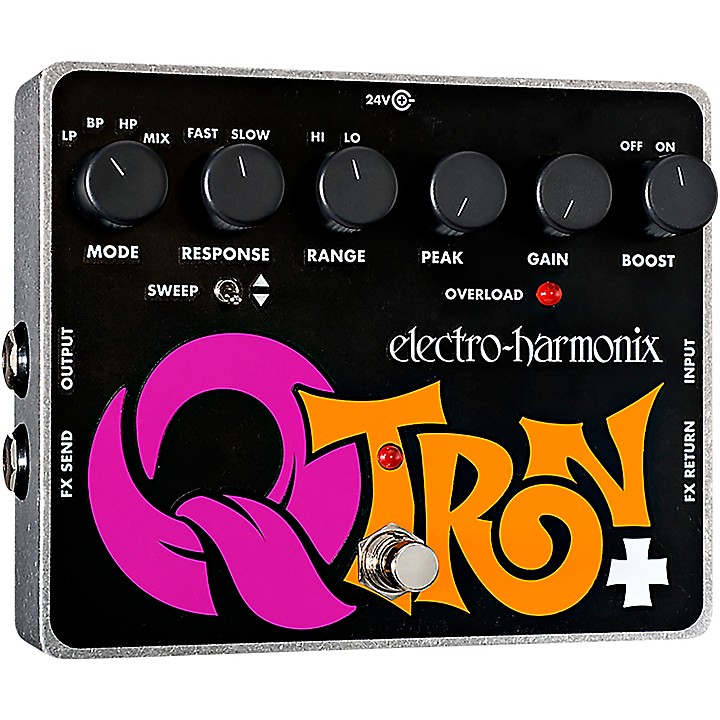 Designed by Mike Beigel, inventor of the legendary Mu-Tron III envelope filter.
Electro-Harmonix' Q-Tron+ Envelope Filter pedal is the classic envelope follower with effects loop. Place your favorite effects between the preamp and filter section without changing the envelope drive. Be creative with the effects you plug into the FX loop and invent totally new sounds. Ratify your Mojo!
Specifications
Drive (Up/Down)
selects direction of filter sweep : upwards or downwards.
Norm/Boost
Normal mode allows setting the Gain control without changing the output volume.
Peak (Q on the Mini Q-Tron)
Determines frequency peak of filter. Makes more "effected sound" when turned up more.
Gain
Functions as both a volume control and a filter sensitivity control in boost mode. In normal mode it acts only as a filter sensitivity control, unlike the Mutron-III which also changes the unit's output volume.
Range (Hi/Lo)
Emphasizes vowel like sounds in low position, overtones in high position.
Mode (LP/BP/HP/Mix)
Select the filter used by the effect: Lowpass, Bandpass, Highpass or a mix of Bandpass with dry unprocessed sound.
Response (Slow/Fast)
Selects either a slow, smooth, vowel-like attack or the fast, snappy response of the original Q-Tron.
Features
Controls: Mode, Response, Range, Peak, Gain, Boost.
Sweep Switch.
1/4" input and output, 1/4" effect loop
DC power input for battery replacement.
LED indicates whether effect is engaged or bypassed.
Second LED indicates signal overload.
24DC-100 power supply included