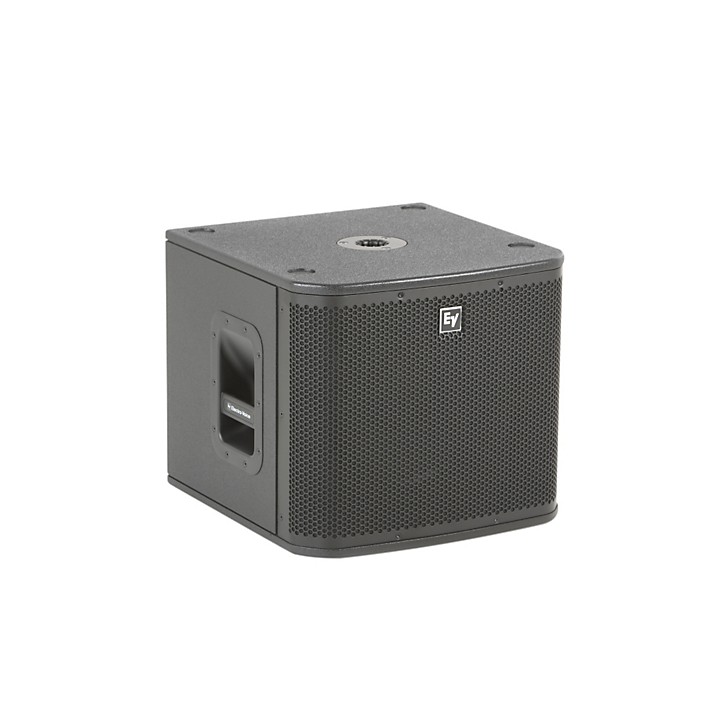 This pro-grade subwoofer punches above its weight class with its 700-watt, Class D amplifier.
Extending the ZXA1's size-defying performance and sleek styling into the low-end realm, the ZXA1-Sub packs a 700-watt punch into a small, low-profile wood enclosure. Match this powered subwoofer with a pair of ZXA1s or other smaller powered speakers and hear just how big a small rig can sound. Weighing in at a mere 46 lb., the ZXA1-Sub won't break your back during transport and it easily fits into tight spaces. Whether you're a DJ looking to add a deep thump to your set or you're a live performer wanting to give the highs and mids some breathing room, this subwoofer has you covered.
Take the stereo XLR outputs from your mixer and plug into the stereo XLR inputs of the ZXA1-Sub, then patch the stereo outputs into a pair of powered main speakers. The ZXA1-Sub is equipped with a 100Hz high-pass filter that keeps everything below 100Hz in the sub so your main speakers' power amp doesn't have to process the low end. Low frequencies are the most taxing aspect of any signal for a power amp, so not only will you get a perfectly tuned low end, your main speakers will operate with much greater efficiency.
Specifications
Speaker Configuration
Active/passive: Active
Type: Subwoofer
LF driver: 12 in.
MF driver: N/A
HF driver: N/A
Power
Amplifier class: D
Wattage: 700 Watts
Mixer/preamp: Not applicable
Audio
Frequency response: 44Hz-118Hz
Coverage pattern: N/A
Max SPL: 126 dB
Wireless and Streaming
Dedicated app: Not applicable
Bluetooth: No
Inputs
XLR: 2 XLR/TRS combo
TRS: No
TS: No
RCA: No
Outputs
XLR: 2 Thru
TRS: Not applicable
TS: Not applicable
RCA: Not applicable
Enclosure
Cabinet material: Polymer
Features
Integrated 700-W Class-D amplifier
EVS-12S 12-inch woofer
126 dB maximum SPL
Dual XLR stereo inputs and outputs
Pole mount for full-range systems
9-ply/15-mm wood enclosure, internally braced,
with textured paint
46 pounds, with integral handle for easy carrying