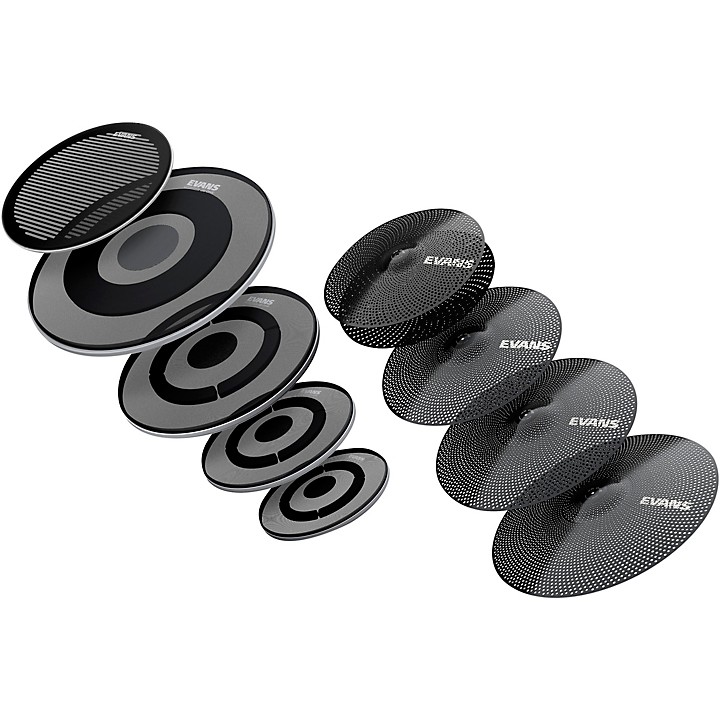 Quiet practice with acoustic tone and feel.
Evans dB One cymbals and drum heads were specially designed for quiet practice, while maintaining familiar feel and tonality.

Built with a single ply of Evans ShockWeave mesh, combined with exceptional Kinetic Transfer Foam technology, dB One low-volume drum heads offer quiet drumming. Evans dB One tom heads are a superior mesh drum head, engineered to transfer impact energy into sonic vibration flawlessly. Thanks to specially designed impact patches, which reinforce the striking surface while enhancing audible attack and articulation, you can practice naturally and quietly, whenever and wherever you want.

The first cymbals to sport the Evans logo and dBalance technology, dB One Cymbals feature a spiral-perforated volume reduction system, punched into a nano-plated stainless alloy surface. This precision approach to attenuation achieves a chime and resonance as articulate as many full-volume sets, but with 80% less noise. Evans dB One low-volume drum cymbals let you play and practice naturally, whenever and wherever you want.

This set includes 10", 12" and 16" dB One tom heads, a 14" dB One snare drum head and a 22" dB One bass batter drum head. Also included are 14" hi-hats, 16" and 18" crash cymbals and a 20" ride cymbal with a 22" cymbal bag.
Specifications
dB One Drum Heads
Type: Low-volume
Material: Evans ShockWeave mesh
Sizes

Toms: 10", 12" and 16"
Snare: 14"
Bass batter: 22"
Country of Origin: USA
dB One Cymbals
Type: Low-volume
Material: Nano-plated stainless-steel alloy
Sizes
Hi-hats: 14"
Crash: 16" and 18"
Ride: 20"
Country of Origin: China
Cymbal Bag
Features
Includes 10", 12" and 16" dB One tom heads, 14" dB One snare drum head and a 22" dB One bass batter drum head
Also includes 14" hi-hats, 16" and 18" crash cymbals, and 20" ride cymbal with 22" cymbal bag
Evans dB One heads and cymbals maintain a natural acoustic feel and tone, with significantly less volume
dB One mesh drum heads and dB one low-volume cymbals allow you to play as you normally would, without changing your technique, and achieve a similar feel and sonic response
Evans drum heads are designed, engineered and manufactured in the USA
Evans dB One cymbals are manufactured in China utilizing a nano-plated stainless-steel alloy