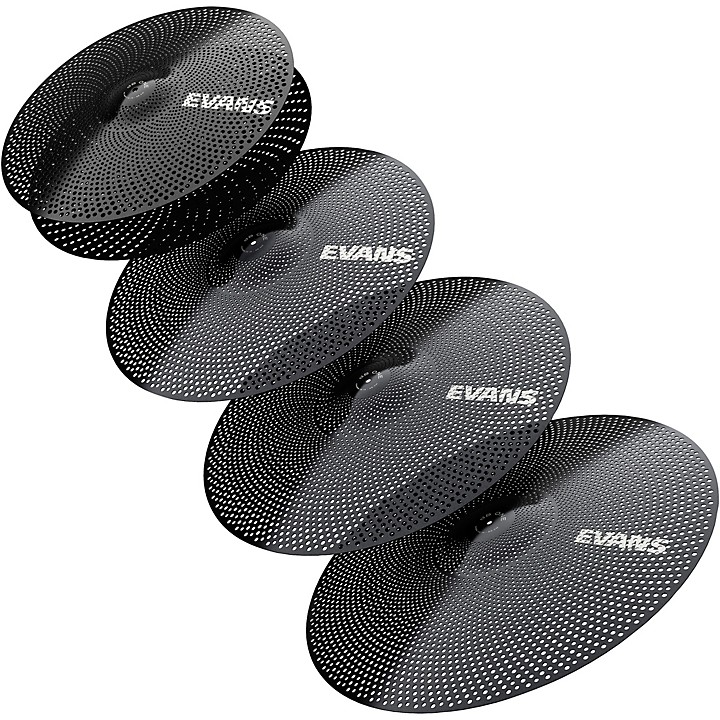 Quiet practice with acoustic tone and feel.
The first cymbals to sport the Evans logo and dBalance technology, dB One Cymbals feature a spiral-perforated volume reduction system, punched into a nano-plated stainless alloy surface. This precision approach to attenuation achieves a chime and resonance as articulate as many full-volume sets, but with 80% less noise. Evans dB One low-volume drum cymbals let you play and practice naturally, whenever and wherever you want.

This set includes 14" hi-hats, 16" and 18" crash cymbals and a 20" ride cymbal.
Specifications
General
Type: Low-volume
Material: Nano-plated stainless-steel alloy
Sizes
Hi-hats: 14"
Crash: 16" and 18"
Ride: 20"
Country of Origin
Features
Includes 14" hi-hats, 16" and 18" crash cymbals, and 20" ride cymbal with 22" cymbal bag
Evans dB One cymbals maintain a natural acoustic feel and tone, with significantly less volume
dB one low-volume cymbals allow you to play as you normally would, without changing your technique, and achieve a similar feel and sonic response
Evans dB One cymbals are manufactured in China utilizing a nano-plated stainless-steel alloy