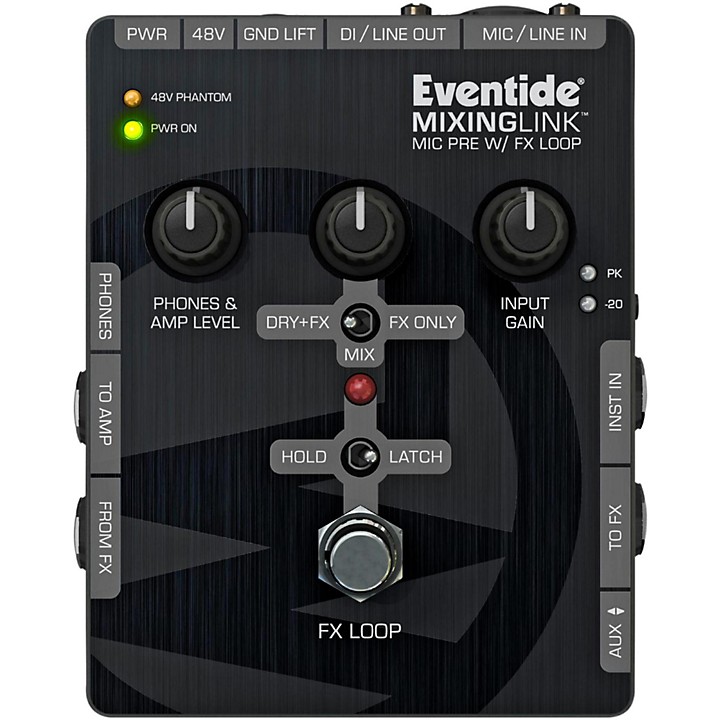 High Quality Mic Pre with FX Loop in a compact form.
This I/O station for multiple devices has many typical uses, but its versatility lends it a universal usefulness that can adapt to many different challenges in the studio, the rehearsal room or on stage.

Specifications
Analog input
Inst in: +10dbu, 500k?
XLR line in: +24dbu, 22k?
XLR mic in: +4dbu, 2k?
From FX: +10db, 200k?
Aux in: +4dbu, 5.0k?
Analog output
To fx: +10dbu, 400?
To amp: +10dbu, 250?
Phones: 150mw per channel, min load = 8 ohms
Di/line out: (di) -10dbu, (line) +18dbu, 200?
Aux out: 18mv, 200? (mobile mic level)
Power Supply
9 VDC, 500 ma, center pin (-)
Minimum required current at 9VDC = 200mA
Features
FX Loop Send and Return supports Balanced and Unbalanced signals - interfaces with consoles or guitar pedals easily
Latching or Momentary Footswitch control of FX Loop for performance effects
Works with a wide range of microphones including condenser and ribbon mics with up to 65dB of clean gain
Aux I/O connection supporting stereo input and send
Guitar Amp output and Headphone monitor output with separate master volume control
International universal power supply included
Operates on 9V battery
No phantom power)
48V Phantom power for Condenser mics
Balanced XLR Output which supports DI and Line levels
Instrument and Balanced Line level inputs
Versatile Mix Control supports 3 modes- 100% Mic w/FX blended in, or Mic/FX balance control, or 100% FX (no Mic)