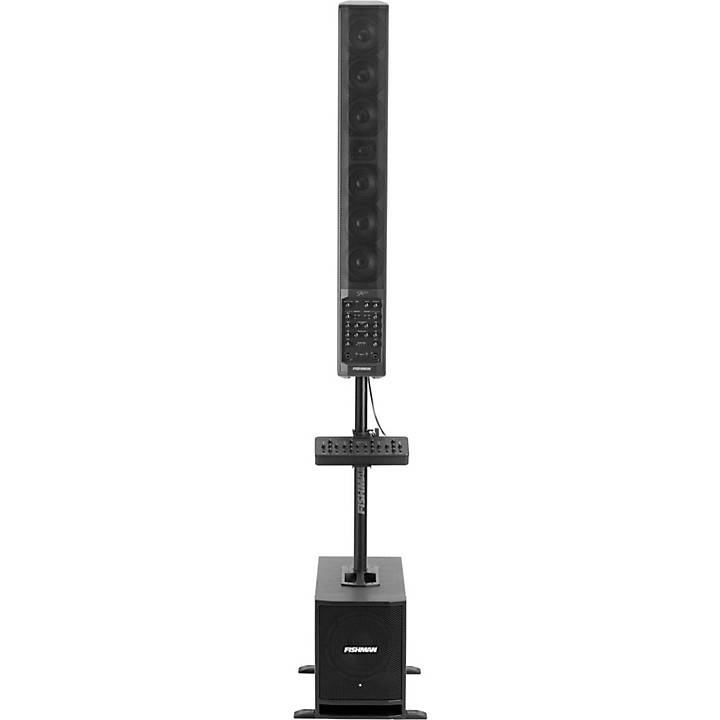 Get heard loud and clear with this complete system.
Unlike many other similar-looking systems, the SA330x is built around a uniquely configured 2-way speaker system that delivers all the sweetness and definition of a great studio monitor. Ruggedly built and with plenty of power, the SA330x is the perfect solution for amazing sound in small and medium-sized venues.
Tuned beautifully for voice and acoustic instruments, the new SA330x, alone or as part of an expanded system, allows anyone looking to fill a small to medium sized room, corporate display, club or similar sized venue with great, Fishman-quality sound.
Whether you're using your SA330x for speech, performance or playback, a full complement of inputs and outputs makes set-up a breeze.
The SA330x features a uniquely configured 2-way speaker system that delivers all the sweetness and definition of a great studio monitor. The "Modified Line Array" fills the room with sound that can be heard clean and clear in the back row, without "blowing away" your audience in the front.
Features
SA330X
Power: 300W (solid state)
Two mic/instrument channels with combo 1/4 in. / XLR inputs
Channel expandability via accessory port: Allows easy hookup and powering on the SA Expand
Speakers: Six 4 in. mid-woofers, one 1 in. neodymium soft dome tweeter with level control
Four reverb effects
Footswitchable channel mute and reverb mute
Feedback-fighting phase and notch filters
Full dispersion line array: Allows everyone in your audience to hear you clean and crisp, without "blowing away" the front row
Balanced XLR D.I. outputs for both input channels and Main mix
Subwoofer output: Used to connect to the SA sub
Aux. input
Includes tripod stand
Includes carrying bag
Dimensions: 5.5 in. x 41.4 in. x 6.7 in.
Weight: 20 lb.
Subwoofer
Power: 300W
Servo-control and dual-action limiter
Speaker: 1x8, FEA-optimized motor structure
Inputs: Two combo 1/4-in.-XLR
Outputs: Two XLR full range
Adjustable Low Pass filter
Adjustable Low Frequency extension
Phase Invert switch
Signal/Limit LED
Output Ground Lift switch
Front power LED Disable switch
Dimension: 10.3 in. x 14.4 in. x 19.8 in.
Weight: 30 lbs.
Four channels of Fishman preamplifiers, each with 3‐bands of EQ and phase control for pro-quality mixing versatility
Combo 1/4 in.-XLR inputs
10dB Input Pad for high-output audio sources
An effects send on each channel to allow the SA Expand to utilize the effect section on the SA300
Switchable 48V phantom power for condenser microphones
MP3 input offers convenient input for set‐break music, backing tracks or other incidental sounds (Standard 1/8 inch input)
15-foot RJ-45 style interconnect cable allows users to easily connect the SA Expand to their SA300
Threaded insert mount located on the bottom side of the SA Expand allows it to be mounted to most microphone stands; rubber feet also provide stable table‐top operation.
Optional Stand-mount kit includes two adapters to mount SA Expand on SA300's stands or on a mic stand (sold separately)
Dimensions: 10.7 in. x 2.2 in. x 3.4 in.