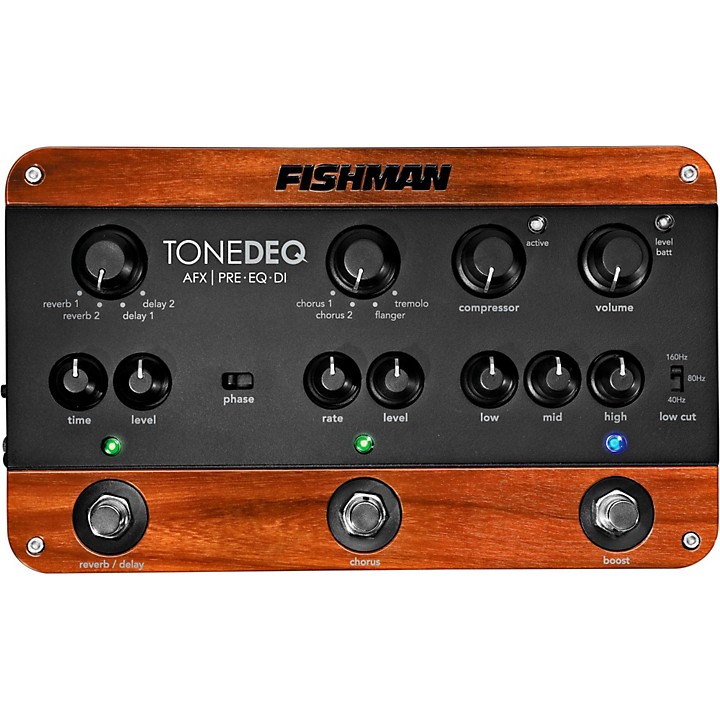 An instrument preamp with effects for the stage-ready acoustic musician.
With a high-quality preamp, dual effects section, tone controls, a compressor, level booster and a balanced DI - the ToneDEQ has everything you need in one box. Its analog signal path goes from end to end - from preamp to output - to give acoustic musicians a richer tonal quality. Even the digital effects are mixed in parallel so they don't affect the purity of the your acoustic instrument.

Fully Balanced Stage DI
Flexible outputs include a 1/4" amplifier output and XLR DI output for the lowest noise possible. Plus the DI features automatic ground-lifting and selectable pre/post
EQ settings.

Discrete Class A Preamp
With Fishman, you get quality discrete Class A signal conditioning created by a leader in instrument preamp design. The high impedance input is a must for any
passive instrument pickup.

Advanced 4-Band EQ
Legendary 4-band equalizer design provides superior tone control for any acoustic instrument. The variable low cut filter controls sub-bass effects produced by some
passive pickups.

Features
Input: 10mOhm, Discrete Class-A JFET design
Audio: All-analog signal path with parallel digital effects
Tone Control: 4-band EQ with Bass, Middle, Treble, and selectable Low Cut
Dual Effects: Reverb (2) or Delay (2), Chorus (2), Flanger or Tremolo
Dynamics: Soft-knee Compressor, Boost Footswitch (up to 9dB)
Feedback Control: Selectable Phase Invert
Audio I/O: 1/4" mono instrument input, 1/4" amplifier output, balanced XLR DI output with pre/post routing
Power: 9-Volt battery (not included), Fishman 910-R AC adapter (sold separately)
Dimensions: 5.36"L (142mm) x 9.5"W (241mm) x 2.2"H (55mm)