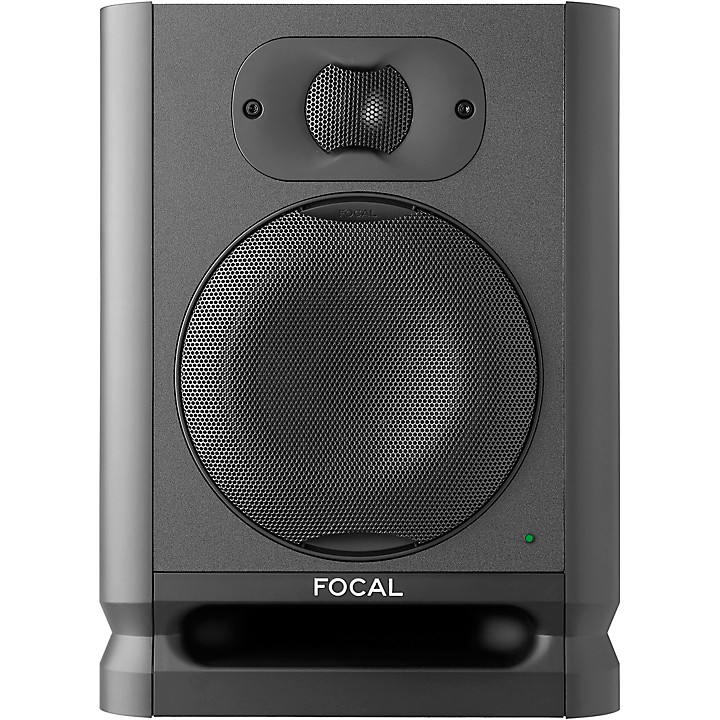 Provides all the detail you need in a critical listening system.
Using cutting-edge materials and engineering practices, the Alpha 50 Evo has been designed from the bottom-up to improve on its predecessor's performance. The Alpha 50 Evo is sonically and functionally versatile, making it the perfect solution for any guitarist, drummer, synthesist, DJ, producer or engineer. The Alpha 50 Evo is honest and accurate while providing all of the detail that you need in a critical listening system, allowing your mixes to translate perfectly to other playback systems. At the center of the new powered Alpha 50 Evo is the new Slatefiber driver. Handmade in the FOCAL workshop in Saint-Étienne, France, the unique characteristics of the Slatefiber have dramatically improved the overall dynamic range, impact and low-frequency extension compared to its predecessor. The driver allows for a tighter response that handles bass signals with ease, such as those present in contemporary electronic, pop and dance music—yet it eliminates unwanted and messy artifacts sometimes associated with those types of signals. Whether it's music production, recording, mixing, post-production or podcasting, the Alpha 50 Evo delivers an accurate and enjoyable experience.

The updated 1" Aluminum inverted-dome tweeter recreates the smallest nuance with exacting clarity, without a hint of harshness. It delivers the detail you need without the fatigue. Beyond impressive sonic characteristics, the Alpha 50 Evo is more functional than ever. The monitor offers RCA, TRS and XLR inputs to flexible connectivity, as well as convenient mounting points for use in immersive audio scenarios or even tight spaces. They're a valuable tool for any creator, whether professional or hobbyist. This model includes a 5" driver along with a 55W amplifier and a 1" aluminum inverted dome tweeter (25W amplifier). The Alpha 50 Evo has a frequency response of 40Hz to 22kHz (+/–3dB).
Specifications
Woofer: 5"
Woofer amplification: 55W
Tweeter: 1" aluminum inverted dome
Tweeter amplification: 25W
Frequency range: 40Hz–22kHz
Input types: XLR, TRS, RCA
Mounting points: Yes
Features
RCA, TRS and XLR inputs to flexible connectivity, as well as convenient mounting points for use in immersive audio scenarios or even tight spaces
5" driver along with a 55W amplifier and a 1" aluminum inverted dome tweeter (25W amplifier)
The Alpha 50 Evo has a frequency response of 40Hz to 22kHz (+/–3dB)