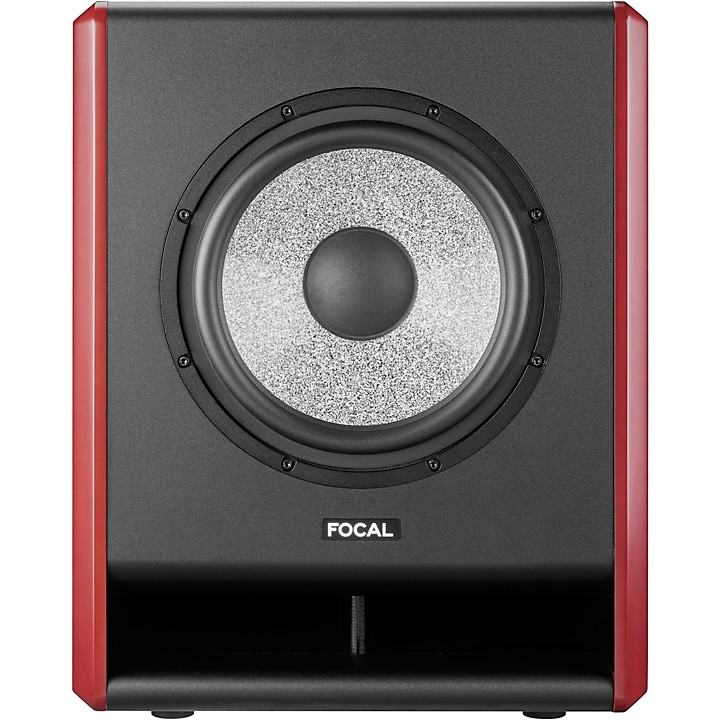 A powered studio subwoofer with excellent accuracy and build quality.
The Focal Sub12 is a highly articulate subwoofer offering high definition, dynamics and sub bass—at an impressive value. Its composite sandwich "W" cone gives distortion-free sound neutrality, while the large laminar port also produces clean low end.

Thanks to its high excursion woofer and 1000W peak amplification, the Sub12's transcription is more powerful and accurate than ever, making it a perfect choice for engineers, producers and musicians who demand quality bass reproduction and superior build.
Specifications
General
Frequency response (@ –3dB): 30Hz–400Hz
Low cut-off frequency (@ –6dB): 28Hz
Maximum SPL (Average CEA2010B 30-200 Hz free field @ 1 m): 124.5dB
Inputs: Balanced XLR LFE 10 kohms, Left & Right 10 kohms
Outputs: Balanced XLR LFE (in parallel), Left & Right 50 ohms
Bass amplifier stage: 600W RMS
Nominal power supply: ~100–120 VAC/220–240 VAC 50/60Hz
User controls: Sensitivity, Stand-by, Polarity, Phase, LPF, Volume, HPF
Fuses: ~100–120V, T10AL/250V; ~220–240V, T5AL/250V
Bass: 1 x 13" x "W" cone
Shielding: No
Construction: Dark red natural veneering side panels, black body
Internal signal processing and functions (subwoofer section)
Left/right mono summation
LFE + mono low-pass
24dB/octave
Phase adjustment
Polarity selection
Switchable high-pass crossover, frequency cut-off selection
24dB/octave
Outputs (to satellites)
Right, left
Electronically balanced/50 ohms
3-point male XLR
Other
Dimensions (HxWxD): 23-5/8" x 19-1/8" x 22-3/8"
Weight: 127.8 lb.
Temperature range
During use: 5–35° C
In storage: 0–50° C
Features
Composite sandwich "W" cone provides sound neutrality with no distortion
Large laminar port designed to not produce any port noise and distortion
Automatic disengageable standby mode
Amplification: 600W RMS, 1,000W peak
Carry handle