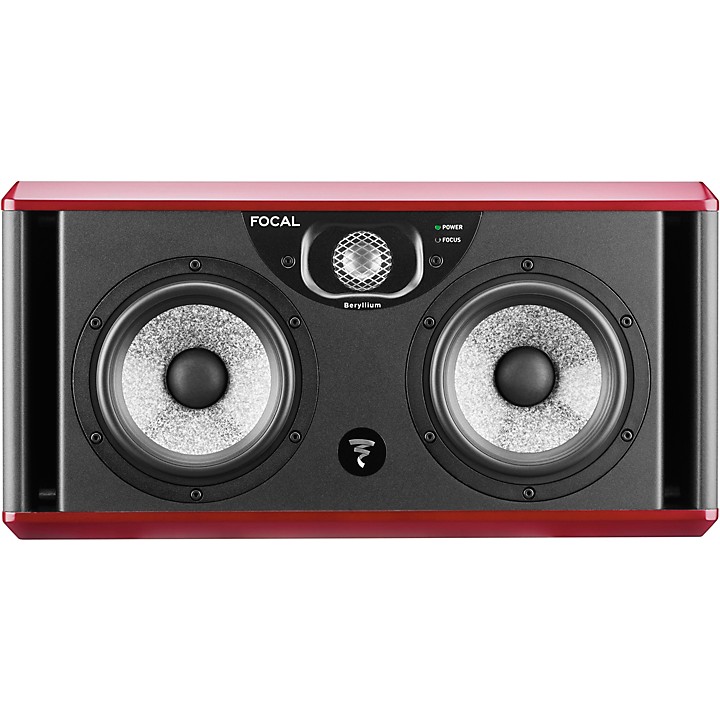 A 2.5-way powered studio monitor with excellent accuracy and build quality.
The Focal Twin6 is 2.5-way monitor offering coveted transparency and high definition, dynamics and soundstage precision—at an impressive value. Thanks to its Focus full-range mode, Twin6 is two monitors in one, where the woofers act as full-range speaker drivers.

Its beryllium inverted tweeter delivers very low directionality, excellent linearity and dynamics, while the optimized baffle tweeter gives superb dispersion control. The Twin6's composite sandwich "W" cone allows for sound neutrality with no distortion, making it a solid choice for engineers, producers and musicians who want accurate reference monitors.
Specifications
General
Frequency response (@ –3dB): 45Hz–40kHz
Low cut-off frequency (@ –6dB): 40Hz
Focus mode: 110Hz–10kHz
Maximum SPL (average CEA2034 50–10kHz free field @ 1 m): 112dB
Focus mode (average CEA2034 100–10kHz free field @ 1 m): 111.5dB
Input: Balanced XLR 10 kohms
Bass amplifier stage: 2 x 70W RMS
Treble amplifier stage: 50W RMS
Nominal power supply: ~100–120 VAC/220-240 VAC 50/60Hz
User controls: Sensitivity, stand-by, Left/Right, HPF, LF Shelf, LMF EQ, HF Shelf
Fuses: ~100–120V, T3.15AL/250V ~220–240V, T1.6AL/250V
Bass: 2 x 6.5" "W" cone
Treble: 1.5" (38 mm) beryllium
Shielding: No
Other
Construction: 7/8" MDF
Finish: Dark red natural veneer side panels, black body
Dimensions (HxWxD): 10-1/8 x 20-1/4 x 13-1/2"
Weight: 48.5 lb.
Temperature range: During use: 5–35° C in storage: 0–50° C
Features
Beryllium inverted dome tweeter provides very low directionality, excellent linearity and dynamics
Optimized baffle tweeter for excellent dispersion control
Composite sandwich "W"-cone for sound neutrality, no distortion
Focus mode: two monitors in one; 2-way monitor and 1-way full-range monitor (woofer alone)
Large laminar port ensures no port noises or distortion
Automatic disengageable standby mode
Settings: activatable/deactivatable, LF shelving, HF shelving, LPF @ 160Hz