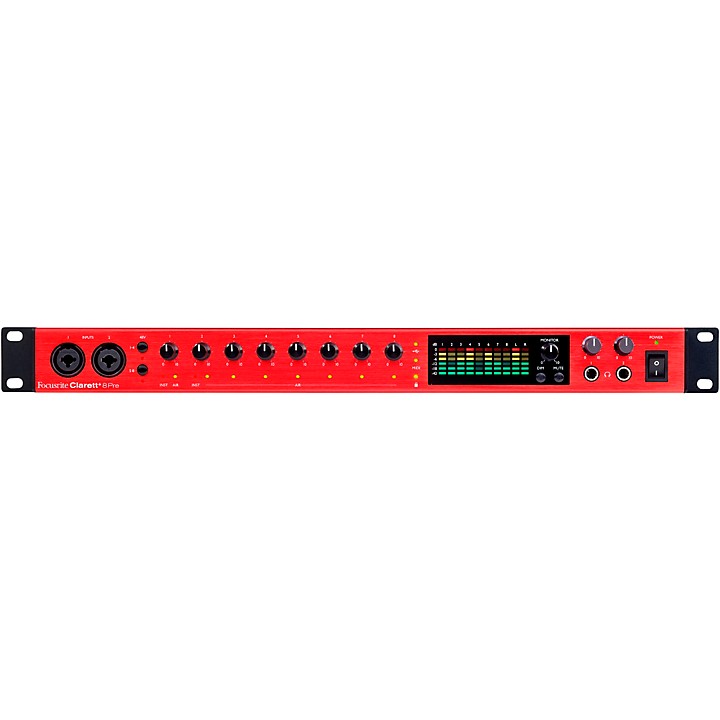 Studio-grade audio interface with eight mic preamps and two JFET instrument inputs.
The Focusrite Clarett+ 8Pre is a high-performance and immensely capable studio centerpiece for PC and Mac. Eight high-headroom, low-noise, low-distortion Clarett+ mic preamps capture vocals, drums and acoustic instruments with precise clarity. Two JFET instrument inputs preserve the natural tone of guitars, just like plugging into an amplifier. Independent A-D and D-A converters bring recording artists closer than ever to their music, with extremely wide dynamic range, low noise and low distortion.

Greatly improved D-A dynamic range brings every detail into focus, so engineers and producers can embrace no-compromise audio quality in abundance, while incredibly low A-D converter distortion lets you capture signals with more clarity. Two improved, powerful and transparent headphone outputs allow artists to hear every nuance of their sound, customize their foldback mix and perform their best. Whether you're multi-tracking a drum kit or connecting to synths and outboard equipment, the Clarett+ 8Pre lets you constantly develop your musical ideas while always maintaining analogue purity and extreme audio clarity. Expand via ADAT to add eight inputs and outputs using Clarett OctoPre, and connect to MIDI and S/PDIF equipment to maximize your creative potential.

Comparison (Clarett vs. Clarrett+)
Input THD+N (Mid Gain): < -107dB/-110dB
Line Output Dynamic Range: 118dB/124dB
Line Output THD+N: -103dB/-106dB
Headphone Output Dynamic Range: 115dB/118dB
Headphone Output THD+N: -101dB/-104dB

Additional Upgrades on Clarett+
Improved independent A-D/D-A converters bring audio clarity to everything from home recordings to studio tracking sessions.
A newly chosen D-A converter—used in conjunction with meticulously designed output filter circuitry—yields greater dynamic range, which is especially noticeable on music with high dynamic variation.
A lower D-A converter noise floor allows users to hear the intricate dynamic variations in mixes and recordings, with more low-level detail than ever before.

Three-Month Avid Pro Tools Artist Subscription With Complete Plug-in Bundle
A three-month subscription to Avid Pro Tools Artist and Avid Complete Plug-in Bundle, with a 25% discount on Avid Pro Tools Artist after the subscription period, or a 33% discount on Avid Pro Tools Studio.

Landr Studio, Plus Five Free Masters
Produce and release your best work with two months' access to Landr Studio, as well as five free masters you can use even when your two months subscription is over.

Features
Eight professional quality Clarett+ preamps
Make vocals shine with all-analogue Air Premium
New and improved A-D and D-A converters
Two improved, powerful and transparent analog headphone outputs
ADAT optical input
Easy-to-use and feature-packed software for computer and iOS devices gives you complete control over all aspects of Clarett+
Included software
3-month subscription of Pro Tools Artist
Antares Auto-Tune Access
Relab LX480 Essentials
Softube Marshall Silver Jubilee 2555
XLN Audio Addictive Keys
XLN Audio Addictive Drums 2: Studio Rock Kit
Brainworx bx_console Focusrite SC
Focusrite Red Plug-In Suite