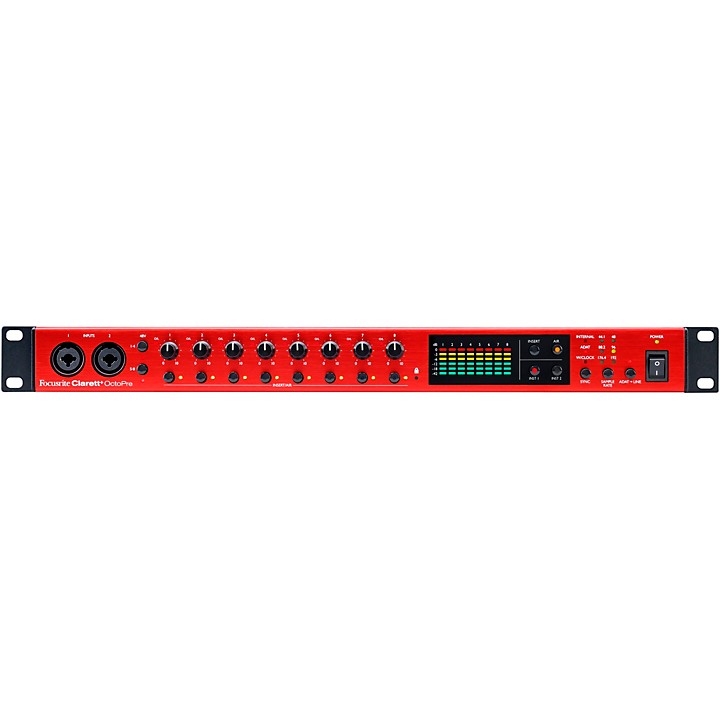 Eight-channel ADAT preamp with all-analog Air circuitry.
The Focusrite Clarett+ OctoPre eight-channel ADAT preamp was designed for both the aspiring and established engineer. Eight high-headroom, low-noise and low-distortion Clarett+ preamps—featuring all-analog Air with relay-controlled circuitry and capture drums, vocals and acoustic instruments with superb clarity. Two JFET instrument inputs capture the true characteristics of guitars, just like plugging into an amp.

High-quality AD/DA converters brings audio clarity to studio tracking sessions with high dynamic range, and ultralow noise and distortion. Exceptional DA conversion ensures that audio quality is preserved when sending audio to analog compressors EQs and effects.

Add Clarett+ OctoPre to a 2Pre, 4Pre or 8Pre to expand your I/O easily and consistently via ADAT, so that you can record a whole band together while maintaining analog purity and clarity as well as bringing the classic Focusrite Studio Console sound to your recordings.
Get the Classic Focusrite Sound With All-analog Air
Get closer to the origins of Focusrite with premium, relay-controlled analog circuitry on every preamp that emulates the classic Focusrite ISA 110, as featured on the original Focusrite Studio Console. When Air is engaged it switches the impedance to 2.2 kohms and adds two cumulative high shelves, totaling a 4dB boost in the high frequencies.
Capture the Truest Version of Your Sound With Clarett+ Mic Pre
Achieve clear recordings in any session. With 118dB of dynamic range and 129dBu EIN, the natural sound of source signals is preserved. The fully balanced signal path ensures inbound signals are clean and with ultralow noise—giving sessions the professional Focusrite sound.
Stay Plugged in With Inserts on Every Channel
Clarett+ OctoPre's eight dedicated channel inserts allow you to track through your favorite outboard gear and capture its true character. Easily add analog equipment to the signal path with our flexible insert design.
Clear, Accurate Multitracking With Improved AD Converters
Multitrack with confidence and handle any recording session. Offering ultralow noise and ultralow distortion, Clarett+ OctoPre's AD conversion combined with the powerful preamps give professional-sounding tracks ready for mixing.
Preserve Your Signature Style With Improved DA Converters
Clarett+ OctoPre's exceptional DA conversion allows engineers to easily process audio in their signature style, confident that audio quality is preserved when sending audio to analog compressors, EQs and effects. Connect Clarett+ OctoPre to a Clarett+ 8Pre via ADAT and send 16 channels to a mixer.
Premium-Quality Audio Over ADAT
Add Clarett+ OctoPre to a 2Pre, 4Pre or 8Pre to expand your I/O easily and consistently via ADAT. Non-Clarett+ users can upgrade to a professional standard and bring the classic Focusrite sound to their recordings by connecting to an ADAT-enabled interface, benefitting from the premium quality offered by Clarett+ OctoPre.
Preserve the Natural Tone of Your Guitar
Capture the true characteristics of guitars with Clarett+ OctoPre's JFET guitar inputs. Wide input bandwidth retains the purity of high frequencies and feels like you are plugging straight into an amp.
Software Extras
Get studio-grade results with Hitmaker Expansion, the included bundle of mixing plug-ins and virtual instruments.

Three-Month Avid Pro Tools Artist Subscription With Complete Plug-in Bundle
A three-month subscription to Avid Pro Tools Artist and Avid Complete Plug-in Bundle, with a 25% discount on Avid Pro Tools Artist after the subscription period, or a 33% discount on Avid Pro Tools Studio.

Landr Studio, Plus Five Free Masters
Produce and release your best work with two months' access to Landr Studio, as well as five free masters you can use even when your two months subscription is over.

Specifications
Mic Inputs
Frequency response: 20–20kHz: ± < 0.03dB
Frequency response: 20–35kHz: ± < 0.15dB
Dynamic range (min gain): 118dB
THD+N (–1dBFS, +20dB gain): –110dB
Noise EIN: –129dBu
Max input level: 18dBu
Gain range: +57dB
Line Inputs (Variable)
Frequency response 20–20kHz: ± < 0.05dB
Frequency response 20–35kHz: ± < 0.15dB
Dynamic range (min gain): 118dB
THD+N (–1dBFS, min gain): –100dB
Max input level: 26dBu
Gain range: +57dB
Instrument Inputs
Frequency response 20–20kHz: ± < 0.04dB
Frequency response 20–35kHz: ± < 0.15dB
Dynamic range: 116dB
THD+N (–1dBFS, min gain): –96.5dB
Max input level: 15dBu
Gain range: +57dB
Line and Monitor Outputs
Frequency response 20–20kHz: ± < 0.02dB
Frequency response 20–35kHz: ± < 0.02dB
Dynamic range: 124dB
Max output level: 18dBu
THD+N: –106dB
Dimensions and Weight
Dimensions (HxWxD): 1.75" x 18.98" x 11.26"
Weight: 9.15 lb. (without accessories)
Features
Eight mic preamps with all-analog Air premium, relay-controlled circuitry
Inserts available on every channel for flexible workflow
Improved AD/DA converters for pristine quality
What's in the box
Clarett+ OctoPre
IEC power cable
Avid Pro Tools Artist 3-month subscription
Hitmaker Expansion (included)
Brainwork Bx_console Focusrite SC
Focusrite Red 2 & 3 Plug-in Suite
Antares Auto-Tune Access
Relab LX480 Essentials
Softube Marshall Silver Jubilee 2555
XLN Audio Addictive Keys
XLN Audio Addictive Drums 2: Studio Rock