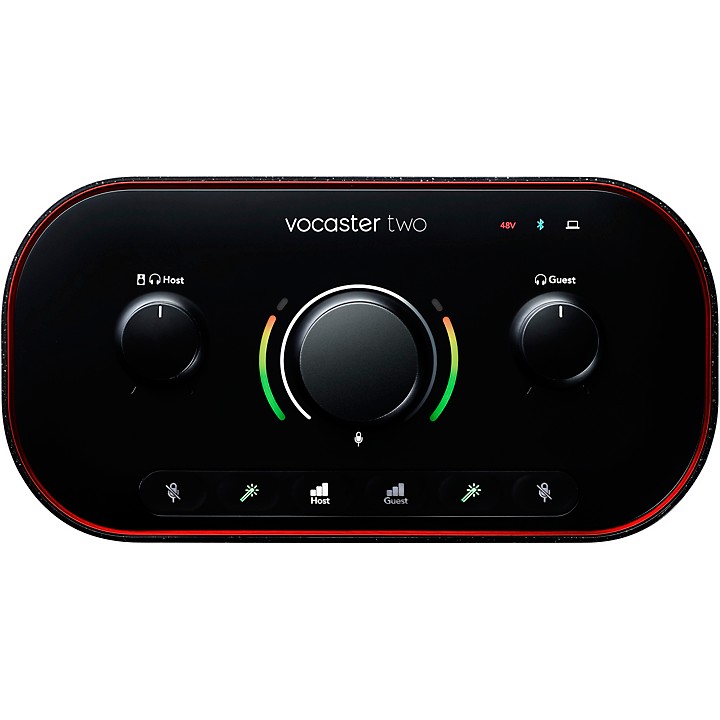 A podcast interface for content creators.
Set levels, enhance your sound with one click, and stand out with the Focusrite Vocaster Two interface for content creators. Create great-sounding content more easily than ever with Auto Gain, Enhance, the Easy Start tool and award-winning support to get recording straight away.

Auto Gain lets you set your levels with the click of a button, with over 70dB of gain on tap for the most popular broadcast mics, and no booster needed. The Enhance button reveals the true quality of your audio with three vocal presets that bring out the best in any voice. You can also easily bring on guests over the phone with one TRRS cable and capture the whole conversation, or record high-quality music or other audio seamlessly from your device. Stream pre-recorded segments such as intros, outros, calls or any other audio you can think of from your computer with two sets of stereo loopback.
Specifications
Technical
1 master preamp gain pot
1 master volume pot (speaker and headphones)
1 headphone volume pot
6 RGB backlit tactile click buttons
2 non-backlit tactile click buttons
Power switch
43 additional LEDs for labels and metering
2 XLR microphone inputs
2 1/4" balanced speaker outputs
2 1/4" headphone outputs
1 3.5 mm TRRS phone connection
1 3.5 mm TRS camera out
USB-C socket
Kensington MiniSaver slot
Software Compatibility
Vocaster Two is class compliant so will work with any modern Mac, Windows PC or USB-C iPad
Power Requirements
USB-3.0 Bus power 5V @ 900mA, 4.5W
External power supply – 5V @ 1000mA
Weight and Dimensions
Weight (without accessories): .93 lb.
Dimensions (HxWxD): 1.99" x 8.84" x 4.45"
Included in the Box
Vocaster Two
USB A-C cable
Hindenburg LITE and 6-month Hindenburg PRO Trial
aCast 6-month Influencer Plan
SquadCast 3-month Pro + Video trial
Ampify Studio 6-month Premium trial
Features
Over 70dB of gain, no booster needed
Auto Gain sets your level in seconds
Enhance with three podcaster-approved presets brings out the true quality of your voice
Mute button to cut out coughs, sneezes and any other unwanted interruptions
Connect your phone with a single TRRS cable and capture the whole conversation, or play music and other high-quality audio from your device straight onto your show
Send Vocaster's high-quality audio straight to your camera with a single TRS cable and level-up your vlog
Includes Hindenburg Lite, three months of SquadCast Pro + Video and six months of Acast Influencer
WARNING: This product can expose you to chemicals including Lead, which is known to the State of California to cause cancer, and to cause birth defects or other reproductive harm. For more information go to www.P65Warnings.ca.gov.