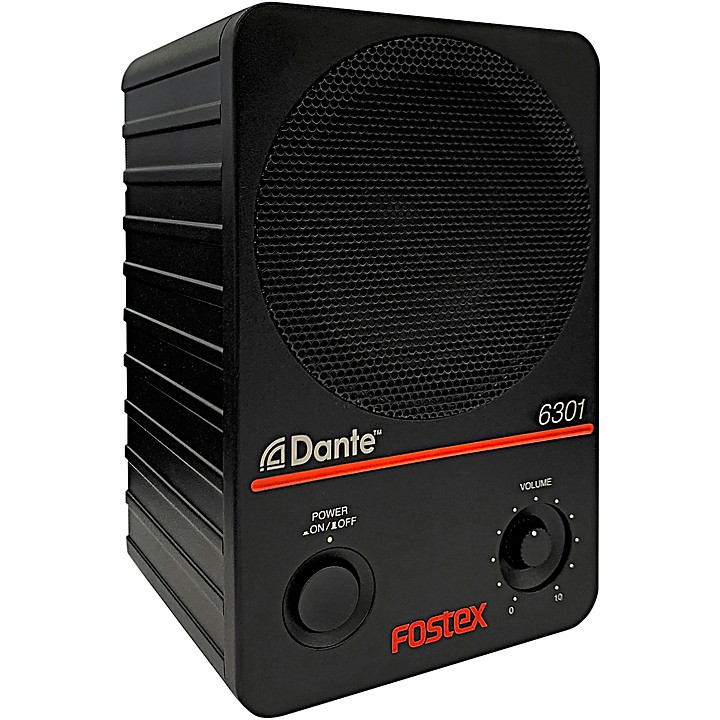 A classic model, now with DANTE.
Model 6301-Series have been on the market since 1982 as the standard active monitor speaker in the broadcast and production facilities. Now, Fostex have redesigned the speakers with the latest D-class power amplifier and driver unit featuring energy-saving "auto stand-by" function.

The popular 6301N Active Monitor series now includes the model Dante version 6301DT. This model has the exact physical dimensions as the current 6301N. The 6301DT offers playing back any two channels of Dante network audio signals.
Specifications
Speaker Section
Enclosure type: closed
Unit: 4" full range
Frequency response: 70Hz–15kHz
Sound Pressure Level: 85dB / W (1m)
Maximum SPL: 98dB
Amplifier SectionInputs
All Models: Connector: 1/4" TS Phone (unbalanced)
Input Impedance: 10k ohm or more
6301NX Connector: XLR-3-31 (transformer balanced)
Input Impedance: 10k ohm or more
6301NE Connector: XLR-3-31 (electrically balanced)
Input Impedance: 10k ohm or more
6301ND Connector: XLR-3-31 (IEC 60958 AES/EBU)
Input Impedance: 110 ohm or more
6301DT Connector: RJ45 (Dante)
Output (Thru)
6301ND Connector: XLR-3-32 (IEC 60958 AES/EBU)
Rated output: 20W
Distortion (T.H.D.): 0.05% (1kHz / 1W output)
Residual Noise: -70dBV or less (NB/NE/NX). -65dBV (DT)
-65dBV or less (ND)
Input Sensitivity: 1/4" TS phone: -14dBV (0.2Vr.m.s.)
XLR: +4dBu (1.2Vr.m.s.)
XLR(Digital): -12dBFS
Auto Stand-by: active after approx. 25 min. of continuous input lower than the threshold level
General
Dimensions (WxHxD): 4.72" x 7.44" x 4.72"
Weight NB/NE/ND: 4.85 lb.
Weight NX/DT: 5 lb.
Power Requirement: AC 100 – 240V (50/60Hz)
Power Consumption: 10W (less than 0.5W in stand-by mode)
Features
20W D-class power amplifier for higher output level and less power consumption with no heat sink
Dedicated 4" full range driver for clear audio reproduction
Flat panel design to avoid inadvertent power-off or level change
Auto Stand-by mode (compliant to ErP directive) for energy saving
RJ45 Dante & 1/4" TS analog inputs
Supports sample rates up to 96kHz via Audinate's Ultimo chip
Two channels of monitoring in one monitor: acts as a two-channel device on the Dante network, with a switch on the back panel to select channel 1, 2 or 1+2 (mixed) for output
Ultra-rugged die-cast aluminum enclosure
Recessed front-panel knob, switch and speaker grille to prevent inadvertent damage in case of a fall
Switching power supply accepts 100 V to 240 V AC
Physical dimensions identical to the rest of the 6301N series for easy upgrade
Optional EB-6301 mounting bracket allows easy surface-mounting at any angle