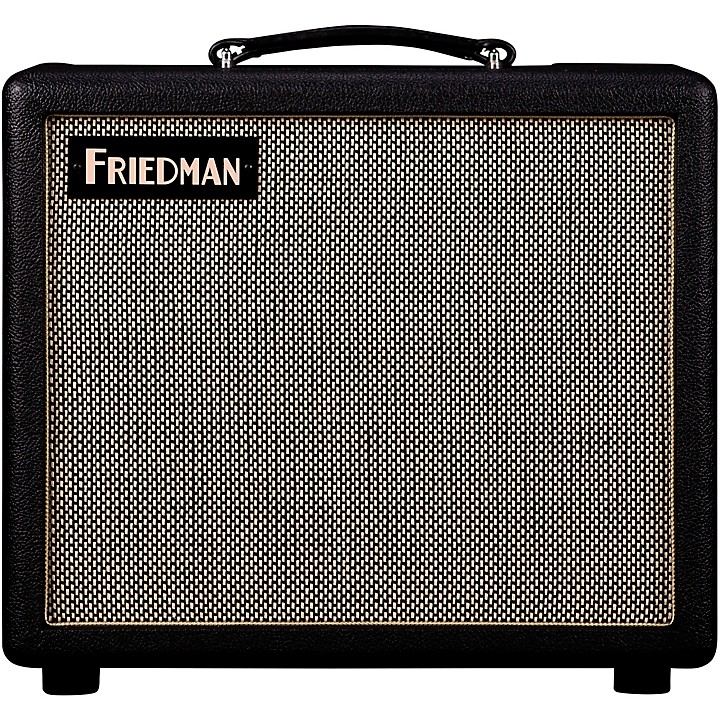 This 1x12" combo offers Jerry Cantrell's signature dirt in a smaller size.
Dave Friedman teamed up with Jerry Cantrell and captured the Alice In Chains guitarist's iconic tone and ferocity in the Friedman JJ-100 — Cantrell's first ever signature amp. The JJ-100 was an instant success. Not being the types to leave a great thing alone, Dave and Jerry decided to cram all that punishing tone and grind into a stage-friendly 20-watt monster. Introducing, the Friedman JJ-Junior combo amp.

The JJ-Junior still gives you the same 2-channel, EL-powered tone that has carved out a legendary place in rock. All of the saturated, complex harmonic overtones are still lurking inside, as well as the AC30-like cleans. With a 20 watt compact combo, the JJ-Junior lets you take the stage, studio, or jam session with total confidence.

Jerry and Dave spent years perfecting the "JJ" sound. Now, you can have the same tonal experience, in a smaller format, without sacrificing the attention to detail that goes into every Friedman amplifier.

At the heart of the JJ Junior combo is a 16-ohm, 12" Celestion G12M 65 Creamback speaker that delivers the bass, mid response and signature tone of Jerry Cantrell.

The JJ Junior features and internal load and cab-simulated XLR output. Comparing this analog circuit to some of the most intricate computer-based IRs, Dave achieved a direct output you can proudly send to front of house or use in the studio. The JJ Junior also allows you to play "silently," meaning you can safely play the amp without having a speaker cabinet connected. The XLR output includes a ground-lift, level, and center/edge of speaker cone simulation switches.

The JJ Junior was specifically designed to take pedals well especially boosts, ODs, phasers, flangers, tremolos, and wahs. The ultra-transparent buffered, series effects loop takes time-based effects pedals and rack units equally well. This is the exact same FX loop Friedman uses on all its amplifiers including the legendary BE-100. The combo cabinet features beautiful black Tolex, with Baltic Birch construction and the same grille cloth used on the original JJ-100.

Specifications
Power: 20W (tube)
Tubes: three 12AX7 (preamp); two EL84 (power amp)
Two channels
Speaker: 1x12" Celestion G12M 65 Creamback
Controls: 3-band EQ, gain, master, volume, bright switch, JBE voicing switch, presence
XLR Cab Simulated output with Ground Lift, Axis and Level switches
Impedance: 8, 16 ohm switchable
Series FX loop
Single-button footswitch included
Dimensions: 17.25" x 19" x 11.75"
Weight: 52 lb.