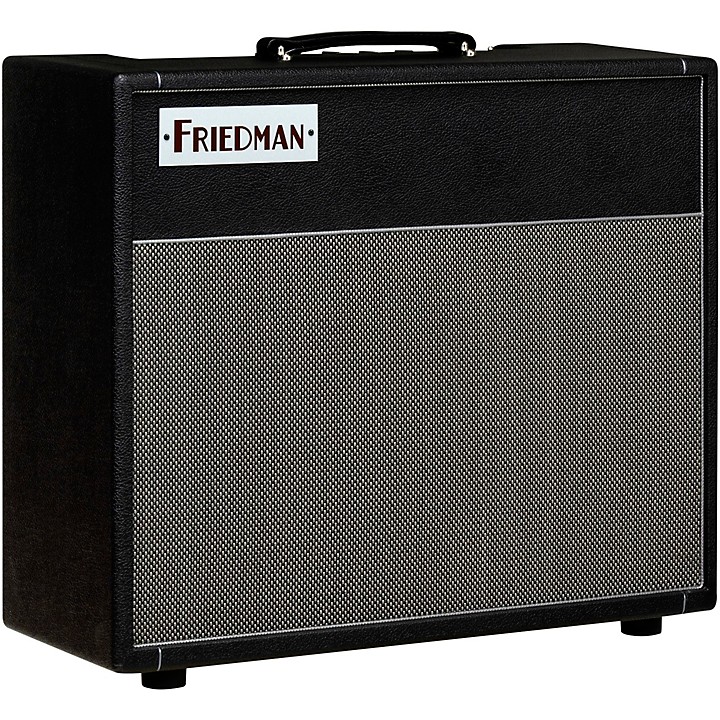 Dial up blues, rock, country in this versatile feature-packed amp.
Friedman's popular Dirty Shirley combo was designed for guitarists that wanted a Vintage Classic Rock tone inspired by British tube amps from the '60s and '70s. And what's better than one Dirty Shirley? Two Dirty Shirleys ... introducing the Twin Sister.
The Twin Sister is a 40-watt, 5881 powered, dual-channel 1x12" combo based on a modified JTM 45, but still delivers the signature British tone for which Friedman has become known for. The amp features two identical channels that can give you everything from gorgeous sparkling cleans to a glorious vintage crunch and beyond. Extremely versatile, the Twin Sister can produce many styles of music from blues to rock and country by just adjusting the structure, gain and master controls.

Handcrafted in the USA, the Twin Sister combo utilizes tongue-and-groove Baltic birch construction and houses a 16 ohm, 150W 12" G12H Redback speaker that delivers the bass, mid response and signature sound you would expect from a Friedman amplifier.
The Twin Sister features all the beautiful finishing and solid construction that you would expect from a Friedman amplifier. Designed to take pedals and loves boosts, ODs, phasers, flangers, tremolos and wahs, while the ultratransparent series effects loop handles your time-based effects pedals and rack units.

Friedman History
Dave Friedman has been building, modding and repairing guitar rigs and amplifiers for many of the world's biggest stars, such as Eddie Van Halen, Jerry Cantrell and Steve Stevens, for the past 25 years. Friedman's innovative designs and meticulous construction have made him legendary in the world of professional touring musicians while earning him a loyal clientele from all over the world. One of Friedman's mainstays has been modifying amps to each player's specific tonal palette, and to consult with other established amplifier companies to improve their own designs.
Dave Friedman's extensive knowledge and pursuit of tonal superiority inspired him to develop his own series of production amplifiers under the name Friedman Amplification. In the past, having Friedman build or modify your amp required a certain level of notoriety, but now his sonic wizardry is available to everyday players.
Each Friedman amplifier is hand-wired in the USA using only hand selected components. You can buy with confidence because Friedman Amps are designed and built to last a lifetime.
Specifications
Dimensions (DxWxH): 9.5" x 24.25" x 22"

Weight: 52 lb.
Features
12" G12H Redback speaker 150W
Gain, Master, Bass, Middle, Treble per channel
Global Presence and Deep knobs
Three-position gain structure switch
Limited lifetime warranty