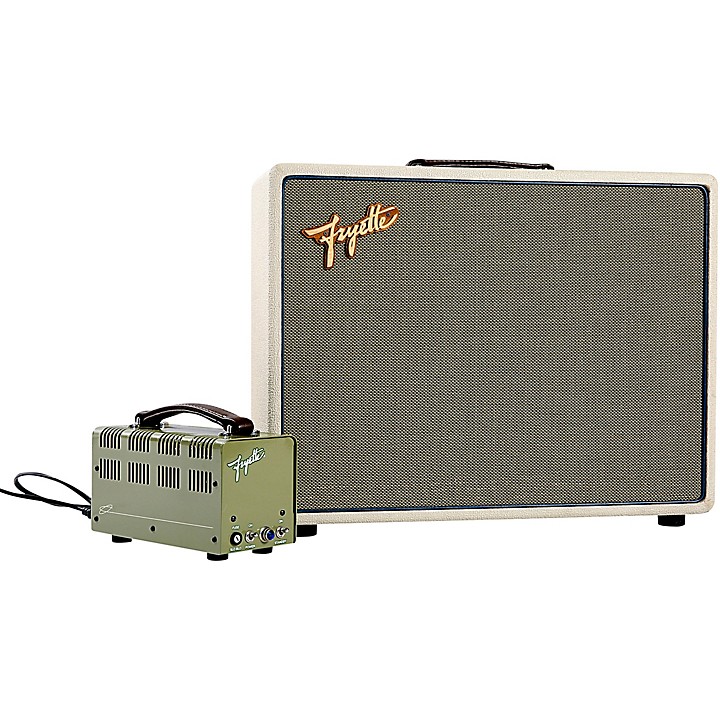 This unique tone beast is awesomely versatile and ready to rock.
The Fryette Aether 25W 1x12" guitar combo amplifier is an unconventionally conceived, single-channel tone machine that takes a hold of your soul and guides you effortlessly into a new world of guitar expression you've not likely experienced before.

Fryette believes the guitar amplifier is more than just an accessory for a nice guitar. It is an equal part of the guitar/amplifier playing experience—like a bow is to a violin. With Aether, they raise the bar for amplifier personality, behavior and contribution to artistic expression on the part of the player. The designers intended for Aether to be visually and functionally unique and nowhere is that more clearly expressed than in the separate preamp/cabinet and power amp module.

The preamp starts with a warm and balanced jazz flavor that gradually develops into a thick harmonic wall of sustain and overdrive that is easily reigned in with your guitars volume control. Once the power amp module is pushed to the onset of distortion, you'll discover a blend of preamp and power amp distortion behavior unlike any amp you've ever played before.

The tone controls are completely different from anything you'll find on a vintage, boutique-style reproduction. Fryette uses active tube equalization to enhance the natural characteristics of the tonewoods and hardware of the instrument. So, whether you are playing clean with a hollow or semi-hollow guitar, or slamming it with a solidbody, you feel a level of interplay between the amp and instrument not likely to be found on any other amp, new or old.

The Aether Tremolo, like everything else in this amplifier, is as unique and expressive as you'll find anywhere. While most tremolo circuits attenuate the amplified guitar signal, which tends to suppress dynamics and string harmonics, the Aether tremolo boosts the signal, producing a highly touch-sensitive playing experience that enhances sustain and harmonic feedback. As a bonus, you can turn the Tremolo Intensity to zero and use the tremolo function as a built-in tube boost that delivers thick slabs of rich sustain.

No expense was spared to deliver the ultimate Aether reverb experience. The Accutronics three-spring reverb pan is impedance matched and carefully selected for rich reflections and musical decay. The reverb drive and recovery amplifiers are carefully tuned and voiced to complement any instrument and playing style.

The preamp and power amplifier sections are housed in separate chassis. This helps keep hum and noise to almost imperceptible levels, reduces power tube vibration which will extend tube life, and minimizes electro-acoustic phase cancellation typically present in a combo amplifier that can impact tone and sustain. It is wonderful to look at, connect and operate, and remarkably convenient to transport due to the thoughtful weight distribution of the power amp and cabinet system.

No amplifier is complete without a speaker, and Fryette is one of the few amplifier companies who truly understands speaker design and the importance of integrating speaker behavior into the sonic performance of the amplifier. After almost two years in the making, Steven Fryette, working closely with the design and engineering team at Fane Acoustics, U.K., have developed a speaker uniquely capable of expressing the full tonal palette of the Aether amplifier. The result is the Fane/Fryette A60S, a remarkably expressive and rich-sounding Alnico speaker with matching Cream chassis and bell cover.

This is a point-to-point hand-wired amplifier designed to minimize component lead lengths and wire usage. Naturally, Fryette utilize top-shelf components and construction materials to insure the quality and reliability of the overall design. Like all Fryette amplifiers, the output stage incorporates custom-designed, precision-wound power and output transformers for maximum fidelity and reliability.

What you get:
Aether cabinet which houses the preamp section/preamp tubes, custom Fane Alnico speaker, reverb tank, top-mounted controls and maple/mahogany logo plate custom made by Koll Guitars
Power amp module, which houses the power and output transformers, power and rectifier tubes, Power and Standby switches Ambience switch and Speaker Output jacks
Umbilical cable that connects the Aether cabinet to the Power Amp Module
Speaker cable that connects the Speaker Out of the Power Amp Module to the Speaker In on the cabinet
Power cable that connects A/C power to the Power Amp Module

Specifications
Power: 25W (tube)
Preamp tubes
One Tung-Sol 12AX7, Gain stage 1 & 2
One Ruby/Shuguang 12AX7, Tremolo Oscillator
One Sovtek 12AX7WA, Reverb Recovery, Reverb Mixer and Gain Stage 3
One Ruby/Shuguang 12AT7, Reverb Driver
Power amp tubes
Two Tung-Sol 6L6, a conservatively rated 25W cathode biased configuration
One EH 6SN7, A big plate dual triode phase inverter
Two Sovtek 5Y3, Two rectifier tubes in complementary operation to maintain a nice "give" without mush and enhances long-term reliability
Single channel
Speaker: 1x12" Special Design Fane/Fryette A60S, 60W Alnico
Preamp controls: Volume, treble, bass, reverb, tremolo speed, tremolo intensity, bright switch, tremolo switch
Ambience Switch: Selects high or low negative feedback. Affects feel and reaction speed, speaker resonance, etc.
Speaker outputs: 8 and 16 ohms; can be internally rewired for 4 ohms
Genuine Accutronics selected Three-spring reverb
Cabinet: Baltic Birch (Made in California)
Cabinet with speaker and preamp section
Dimensions: 24.5" x 18.5" x 9"
Weight: 34 lb.
Power Module
Dimensions: 10.5" x 4.75" x 5.5"
Weight: 15 lb.