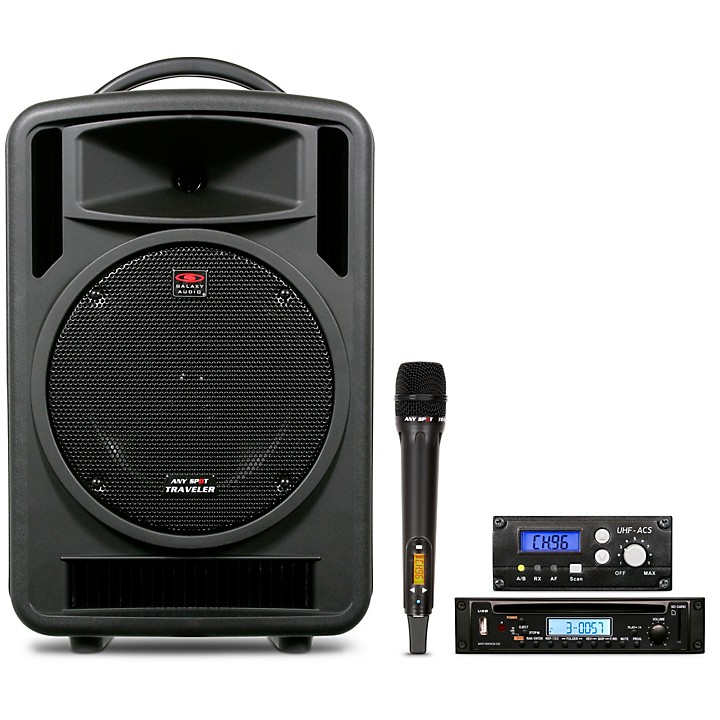 Battery-powered full range PA system with wireless receiver, one handheld mic transmitter, and a CD player.
The Galaxy Audio Traveler (TV10) is an AC/battery operated portable PA system. We have made it available in a wide variety of configurations that take advantage of its optional built-in wireless receiver network. This one includes one wireless receiver and a TVHH wireless handheld mic transmitter, making you 100% ready for wireless presentation. It also comes with a CD player.

Receiver and Microphone
Galaxy Audio's Single Receiver for the Traveler Portable PA Systems will allow you to use a wireless microphone with a receiver card. With a master control, you can easily set the wireless microphone, and with 96 selectable frequencies each, you are sure to find that the Single Receiver will work great for your next event. The TVHH handheld microphone transmitter features 96 selectable channels, an LCD Display, built-in antenna and a volume and mute switch. It runs for about 14 hours on 2 AA Batteries.

CD Player
This addition plays CDs or MP3s, and features a bright, easy-to-read LCD display. It has its own discrete volume control, as well as a track selector and play, pause and stop functions. Remote control included

The Traveler
The Traveler is designed for people who need a portable, lightweight, "all in one" PA system that allows for a quick and uncomplicated setup. This compact system features an 10" woofer, 1" horn, 150-watt max amplifier, and can be configured in a variety of ways to meet your specific needs.

Features of the standard Traveler include four inputs, each of which accommodates a different kind of input device. It has one XLR input, one 1/4" input, a RCA stereo input, and a 1/8" stereo input. The RCA and the 1/8" both have thru-put. Each channel has its own volume control, and a master volume and a two-band master EQ shapes the overall mix. Audio Outputs include a dual RCA Line Out and a 1/8" Line Out. The durable ABS enclosure features a convenient carry handle and a provision for standard pole mounting. The TV10 has a retractable handle and durable wheels for easy mobility.

The Traveler has a unique "plug in" modular design, which allows optional Function Modules to be easily added or removed. Optional Modules include Single and Dual Wireless Mic Receivers (with Handheld, Headset, Pendant & Lapel options), Bluetooth® Receiver, a CD/MP3 player, and an Audio Link Module, which wirelessly transmits the entire audio mix from one Traveler to any number of satellite Travelers. Since all the Modules are internally wired, no external patching is necessary.

The Universal Power Supply/Battery Charger allows the Traveler to be used anywhere in the world. The Traveler will operate for an unlimited time on AC power and for about 6 hours on just battery power. A full recharge of the batteries takes about 4 hours. The Traveler may be operated while recharging the batteries without affecting the charge time. If a power failure occurs when operating on AC, the Traveler will seamlessly switch over to battery power.

Specifications
Speaker Configuration
Active/passive: Active
Type: 2-way
LF driver: 10"
MF driver: Not applicable
HF driver: 1"
Power
Wattage: 100W (RMS)
Mixer/preamp: Yes
Audio
Frequency response: 60 Hz - 20 kHz
Max SPL: 112 dB
Inputs
XLR: 1
TRS: 1
TS: 1
RCA: 1
Outputs
XLR: 0
TRS: 1
TS: 0
RCA: 1
Enclosure
Cabinet material: ABS
Width: 12.2"
Height: 22.8"
Depth: 14.2"
Weight: 44 lb.
Features
Speaker
100 Watts/150 Watts Peak
10" Woofer/1" Horn
Built-in battery and charger
4 Wireless Microphones Optional
2 Microphone Inputs 1/4" & XLR / 1/4" Combo
RCA & 1/8" Outputs
Built-in Bluetooth®
Optional Media Player
Built in Wheels and Handle
Battery Operation: 7.5-16 hours
Speaker Stand Mount
Receiver
Single Receiver
TV-REC Works With TV10 Models
96 Selectable Channels
Channel Selector
RF and AF Indicator
Volume Control
LCD Display
Easy Aftermarket Installation
Microphone Transmitter
96 Selectable Channels
Channel Selector
LCD Display
Dynamic Capsule
Built-in-Antenna
3-Bar Battery Condition indicator
Hi/Low Volume + Mute Switch
Functions from 2 AA Batteries (About 14 hours) (Batteries not included)
DC Charging Input
8.3 oz. (280g)
CD Player
CD/MP3 Player
LCD Display
Volume Control
Track Selector
Play, Pause, Stop Function
Remote Control