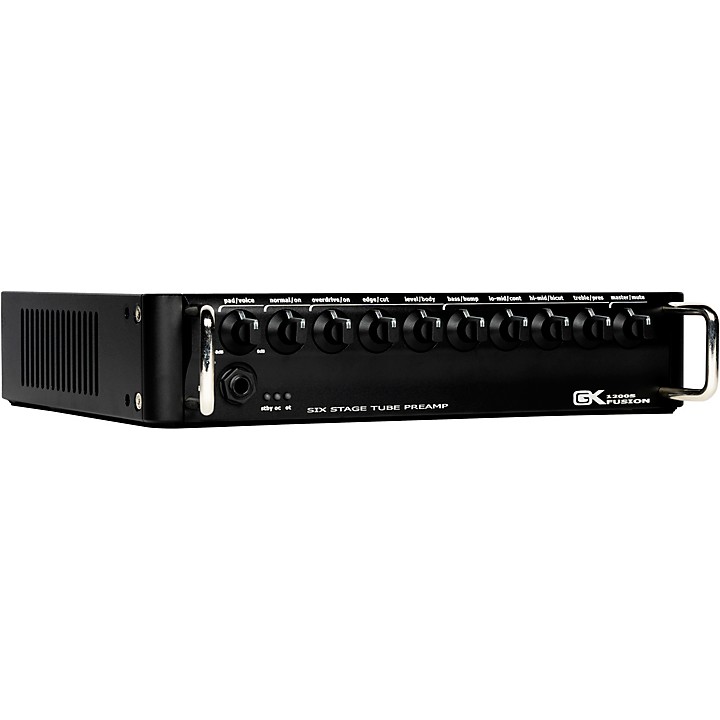 Real tube tone with plenty of headroom.
The Gallien-Krueger Fusion 1200S 1,200W tube-hybrid bass amp head delivers real tube tone and enough headroom to shake any sized venue. Plus, it's leaded with player-minded features to make it a great all-around workhorse.

The Fusion S Series Heads are GK's brand new Class D Model heads with a tube preamp. The rich warmth of tubes combined with the quick, punchy power section that GK bass amps are known for is an experience like no other. These high powered heads incorporate three 12ax7 tubes in the preamp, including one dedicated to the overdrive channel, making it GK's first ever tube driven overdrive channel. Illuminated knobs add an extra level of sophistication and design by not only making it easier to dial in your tone on stage and but adding a beautiful stage presence as well. Each illuminated knob is also push activated, with additional voicing filters and tonal characteristics built in.

Like the Legacy Series, the Fusion S series uses a unique interconnection system that eliminates problems that can develop over time from constant vibration and temperature extremes that gear is subjected to with heavy use. Using circuit boards with gold plated connectors, rather than cables with standard tin connectors, this type of construction delivers a more pure, reliable sound. Features include GK's classic 4-band tube driven EQ, tube overdrive complete with tone shaping, additional push button voicing filters such as Bump, Contour, and Presence, balanced DI with Pre and Post EQ, an effects loop, aux and headphone connections, and Load capacity selection, to deliver optimum power into 2, 2.7, 4 and 8ohm cabinet configurations.

U.S. Manufacturing
In the last three years GK has made significant investments to bring as much of the manufacturing process as possible to its U.S. factory in Stockton, California. They have invested in an automated PCB assembly line and brought all circuit-board assembly in house, providing improved quality control and reliability. These new products' chassis are 100% aluminum finished with very tough black anodize. All the graphics are laser etched into the surface during assembly so they will never fade or wear off.

New Technology
GK made a major improvement in the manufacturing process by replacing standard interconnecting cables and tin contacts with multilayer circuit boards and gold connectors. Multilayer circuit boards provide built in shielding for sensitive circuits and provide a more pure signal path for your music. Over time standard cables with crimped on tin connectors tend to exhibit failure issues due to various corrosion conditions and are subject to sound pollution and unwanted interference. Over time tin contacts will degrade and gradually affect your sound, while gold connectors do not, keeping your excellent sound year after year. There are many innovations included in the Legacy Series that work together to give you a sound like you have never heard and this attention to detail, technology and manufacturing insures your new Legacy will allow you to express your creations for years to come.
Specifications
Power: 1,200W (tube hybrid)
Tube: three 12AX7 (preamp)
Four-band active EQ
Footswitchable overdrive
Effects loop
Aux. input
Headphone output
Balanced XLR output with pre/post EQ
Gold-plated circuitboard connectors
Illuminated knobs
Twist Lock speaker outputs
Impedance: 2, 2.7, 4, 8 ohm
Dimensions: 11.5" x 11" x 2.66"
Weight: 7 lb