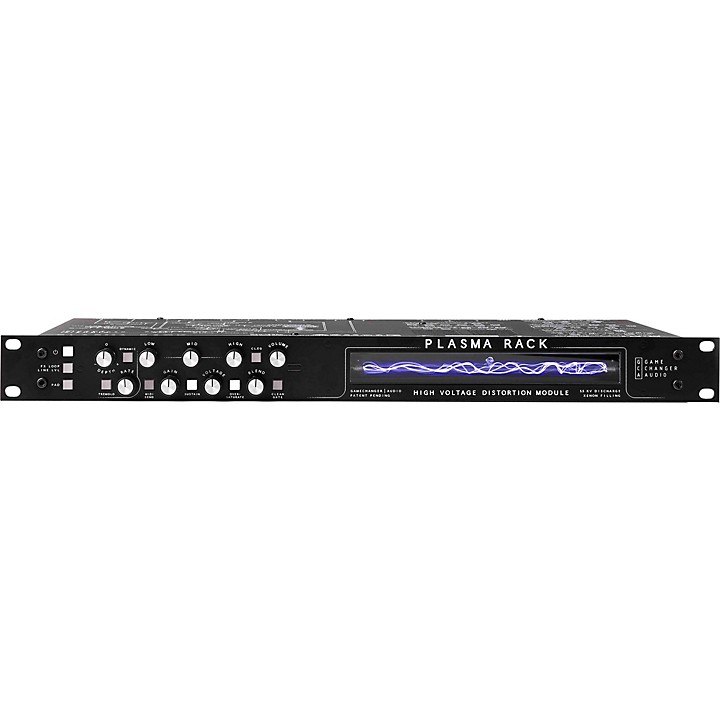 Experience fuzz and distortion like you've never heard before.
The Gamechanger Audio Plasma Rack is a 1U sized high-end audio effects unit designed for professional and studio use. At its heart is the unique High Voltage Distortion concept — a brand new way of analog signal processing developed in 2018 by Gamechanger Audio.

By using a high-voltage step-up flyback transformer, Plasma Rack turns your instrument's signal into a rapid series of electric discharges in a Xenon-filled tube. These powerful discharges (up to 5500 Volts) then get picked up by a specially designed electromagnetic receiver and turned back into audio-level signal. This process results in a large amount of punishingly heavy distortion, and also saturates the sound with a wide range of harmonics and overtones. The harmonic artifacts, created as a byproduct of the high-voltage discharge are uncommon in traditional signal amplification, and therefore Plasma distortion is unlike anything you have heard before.

The way Plasma Rack reacts with different instruments and sound sources simply cannot be recreated with any other analog machine, plugin or by digital sound modeling Simplified Wet Signal Chain: Input -> (EQ if on) -> Transformer to High Voltage -> Xenon Tube -> Antenna that picks up the electromagnetic vibrations surrounding the Tube -> (EQ if off) -> Blend with Clean -> Output
Specifications
3-Band EQ: Gives you more and control over key Plasma frequencies.
(10Hz, -20 to 20 dB LP Shelving Filter; 600Hz, -6 to 6 dB; 20kHz, -10 to 10 dB HP Shelving filter)
Input Gain Control: Can be used to fine-tune the PLASMA RACK for any type of input signal (adjusting to different pickups etc.)
(Preamp gain range -26dB to +12dB )
Sustain Mode: Built-in adaptive compressor that lets you prolong the Plasma Tube's output at Low-Voltage settings.
The resulting effect is like a long electrical sputter and is quite unpredictable and extraordinary.
Oversaturate Mode: Analog Octave up / Overtone effect achieved byoverpowering the PLASMA Tube.
This gives note attacks some serious Octavia-style upper harmonics, and also makes the whole sound extremely intense.
Clean Gate Mode: Use the Plasma Tube's gating effect on any CLEAN Signal without the added Distortion.
Works great on all percussive instruments, as well as breaking up heavy reverbs and
creating "bit-crush" type effects, but using an analog spark gap as a medium.
Plasma Tremolo/Ringmod: A very unusual Tremolo circuit that takes full advantage of the PLASMA Tube's sputtery and abrupt bursts.
The Tremolo range goes from slow to full-on screaming Ring mod.
Also, features a Dynamic Tremolo mode (Trigger the Ring mod (or tremolo) effect on transients, or only as the sound starts decaying.
Built-in Distortion Channel: Plasma sound blends very well together with a classic op-amp distortion, therefore the Plasma Rack gives you access to a built-in distortion circuit to create a huge sound instantly.
The CLEAN GATE button applies the Tube's gating effect to the distorted channel.
3 FX Loops with switchable level control
Modify the signal path by inserting external effects or plugins into various parts of the Plasma Rack's signal chain.
FX LOOP 1 – affects the DRY signal only;
FX LOOP 2 – affects the WET signal only, before it goes into the PLASMA tube;
FX LOOP 3 – affects the WET signal only, after the PLASMA Tube.
Connectivity: INPUTS: 1 Unbalanced 1/4′ TS Jack input (Instrument), 1 Balanced combo XLR/Jack input (with PAD),
OUTPUTS: 1 Balanced XLR & 1 Unbalanced 1/4′ TS Jack
MIDI: In, Through, and Out.
Full MIDI Control + 8 Preset Slots
Control all parameters and values via CC Messages and Program Change Messages.
Plasma Rack also features 8 Preset slots for saving sounds – incl. button states and knob values.
Also, multiple Plasma Racks can be synchronised via MIDI CC messages.
Assignable Expression Input: Any potentiometer on the Plasma Rack can be assigned to an Expression pedal.
Savable Utility Settings
Make your Plasma Rack gig-ready by setting up the default boot-up states of all buttons and functions.