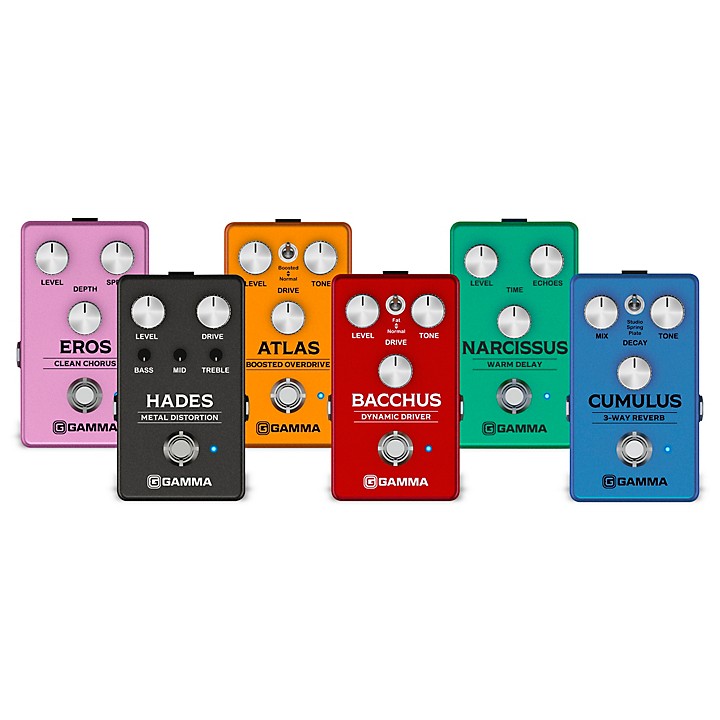 All six GAMMA effects pedals for the price of five.
The GAMMA Effects Pedals Bundle contains all six pedals for the price of five.

Bacchus Dynamic Driver
The GAMMA Bacchus dynamic driver effects pedal is a versatile overdrive with wide-ranging level and drive controls, plus a Fat switch for those times when you want a little more low frequency push. Go from smooth blues through dynamic crunch to full-bore distortion, while reflecting all the nuance of your individual playing style, guitar choice and pickup configuration.

Hades Metal Distortion
The GAMMA Hades metal distortion effects pedal empowers you to add aggressive yet articulate distortion to your guitar sound arsenal, with a particularly wide range of MID cut/boost for great tonal versatility. It's the ideal choice when it's time to unleash the "dark arts" of high gain, whether you're chugging and palm muting, shredding intricate solos or delivering soaring melody lines.

Eros Clean Chorus
The GAMMA Eros clean chorus effects pedal allows you to add bold or gentle modulation to your sound palette. At low Depth settings, Eros adds subtle richness that's perfect for thickening up a solo or adding character and bounce to a rhythm guitar tone. High Depth or Speed settings transform your guitar tone into a richly modulated wash of sound.

Cumulus 3-Way Reverb
The GAMMA Cumulus 3-Way reverb effects pedal allows you to add inspiring ambience to your guitar sound palette, with a choice of three classic flavors of reverb. Studio emulates a crafted recording studio space, with a well-controlled decay that avoids muddying up your sound. Spring emulates the splash and bounce of the spring reverb hardware of vintage guitar amps. Plate emulates the sound of a classic studio plate reverb, for smooth, mellow ambience. The Cumulus 3-Way Reverb features a road-ready, classic, full-sized metal chassis with metal knobs, and operates from either a 9-volt battery or 9-volt DC power supply.

NARCISSUS Warm Echo
The GAMMA NARCISSUS Warm Echo effects pedal allows you to add inspiring echoes to your guitar sound, with a tone quality reminiscent of classic "bucket brigade" delay units. The delay chip at the heart of this pedal provides echoes that get darker with each repeat, helping to ensure that the ambience NARCISSUS creates doesn't obscure the new notes you are playing, as echoes of previous notes are fading away. And when it's time to get spacey, cranking up the echoes knob to the max will take you into self-oscillation as your saturated echoes build into a dark and distortion-rich pulse of throbbing sound.

ATLAS Boosted Overdrive
The GAMMA ATLAS Boosted overdrive effect pedal allows you to add nuanced, tube amp-style overdrive to your guitar sound palette, with a Boost switch that pushes low frequencies and adds more high end bite to the drive sound. This distortion preserves your dynamics and articulation, and is nicely responsive to volume, tone and pickup adjustments you make on your guitar.

Specifications
Included
BacchusDynamic Driver
Hades Metal Distortion
Eros Clean Chorus
Cumulus 3-Way Reverb
Narcissus Warm Echo
Atlas Boosted Overdrive
WARNING: This product can expose you to chemicals including Acrylamide, which is known to the State of California to cause cancer, and to cause birth defects or other reproductive harm. For more information go to www.P65Warnings.ca.gov.