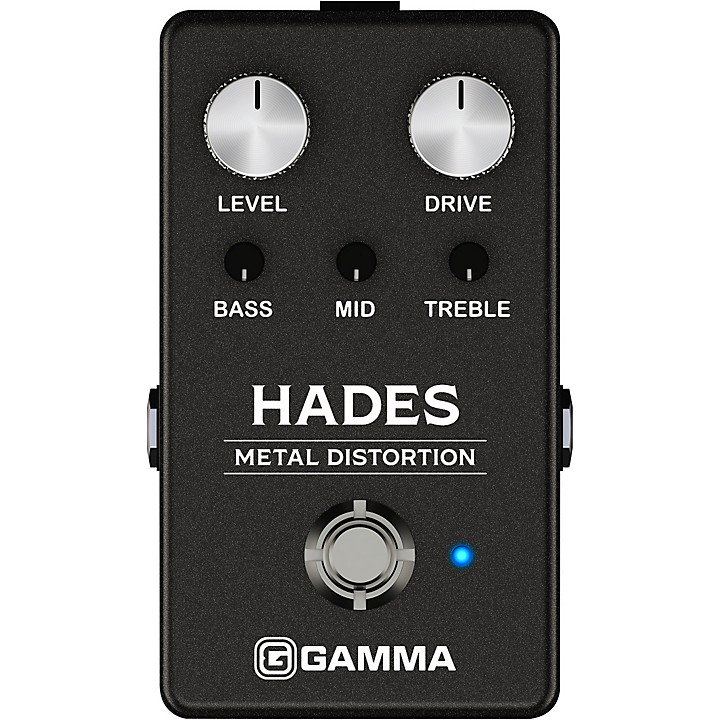 A powerful and detailed distortion pedal.
The GAMMA Series Hades Metal Distortion from Acoustic Control Corporation empowers you to add aggressive yet articulate distortion to your guitar sound arsenal, with a particularly wide range of MID cut/boost for great tonal versatility. It's the ideal choice when it's time to unleash the "dark arts" of high gain, whether you're chugging and palm muting, shredding intricate solos, or delivering soaring melody lines. The Hades Metal Distortion features a road-ready, classic, full-sized metal chassis with metal Level and Drive knobs, and operates from either a 9V battery, or 9V DC power supply. Batteries and DC power supply are not included.
Carefully Crafted for Great Sound
GAMMA's crafted blend of carefully selected components and expertly engineered circuitry is the key to this pedal's dynamic, versatile sound and trouble-free operation. Transparent buffered bypass ensures trouble-free and consistent operation in any setup, while maintaining the clarity and integrity of your guitar's signal.
GAMMA Series: Collect 'Em All!
The GAMMA pedal series offers a choice of reverb, echo, chorus, and a range of dynamic and versatile distortions. Every model follows the same approach of high-quality construction, metal flake paint finishes, and classically simple operation, to deliver essential effects sound for electric guitarists.
Specifications
Power Input Compatibility: 9V DC (Center Negative)
Power Draw: 30mA
Battery Compatibility: 9V (Alkaline recommended)
Battery Life: 16-hour runtime
Input: 1/4" Instrument Level Input
Input Impedance: 650 kohms
Output: 1/4" Instrument Level Output
Output Impedance: 1 kohms
Product Dimensions (DxWxH): 4.59" x 2.75" x 2.19"
Product Weight: .55 lb. (8.8 oz.)
Features
Aggressive yet articulate distortion, with wide-ranging MID cut/boost for versatility
Level and Drive control and three knob EQs allows you to carve your ideal sound—from death-and-doom to hyper-speed shred
All metal chassis and knobs with a road-ready design
Operates from a 9V battery or 9V DC adapter (battery and DC supply not included)
Mono audio input and output, with buffered bypass for consistent tone in any setup
WARNING: This product can expose you to chemicals including Acrylamide, which is known to the State of California to cause cancer, and to cause birth defects or other reproductive harm. For more information go to www.P65Warnings.ca.gov.