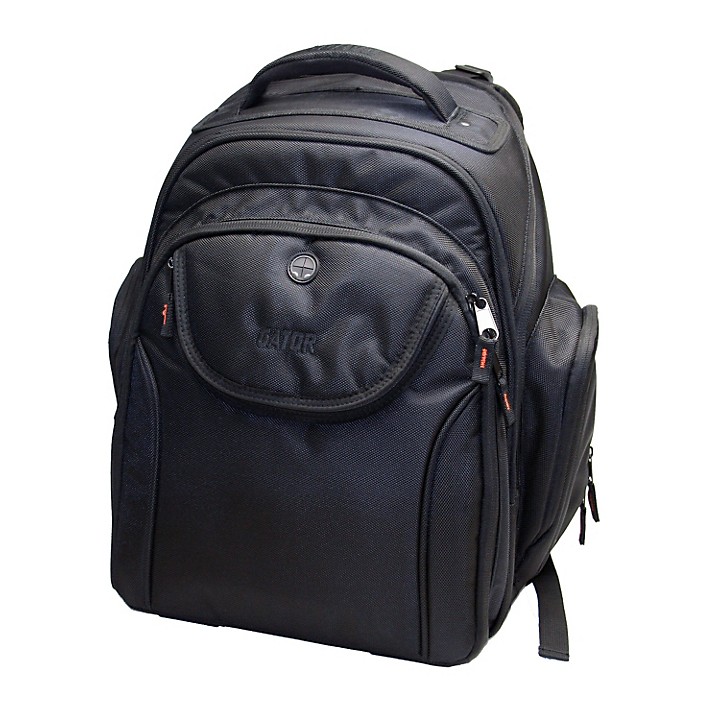 Durable padded backpack, with room for a mixer, and compartments for additional DJ accessories.
The Gator G-CLUB BACKPACK-LG is a rugged-built backpack that is perfect for DJs on the go. The G-CLUB backpack features a large section for a DJ mixer or live sound mixer, appropriately sized pockets for recording interfaces and external hard drives, a padded larger pocket to protect a laptop, internal storage for cables with Velcro cable management, and even a pocket with a custom fit raincoat for the backpack to keep all your gear dry. The rugged nylon construction will keep things safe from harm on the go, while the padded straps and breathable ventilation channel keeps things comfy and cool while wearing the backpack to your next gig.
Specifications
Weight: 5.80 lb.
INTERIOR DIMENSIONS
Interior Length: 15.00"
Interior Width: 12.00"
Interior Height: 4.00"
EXTERIOR DIMENSIONS
Exterior Length: 19.00"
Exterior Width: 19.00"
Exterior Height: 10.50"
Features
Designed for club DJs on the go
Includes DJ style interface and external hard drive pockets
MP3 storage compartments with grommets for headphones
Breathable ventilation channel to keep cool while wearing
Padded laptop pocket
Section for audio mixer, DJ mixer, or projector
Interior storage for cables with Velcro cable management
1680-Denier nylon EVA reinforced exterior with 420-Denier nylon interior
Padded backpack straps and carry handle
Pocket with custom fit raincoat for bag