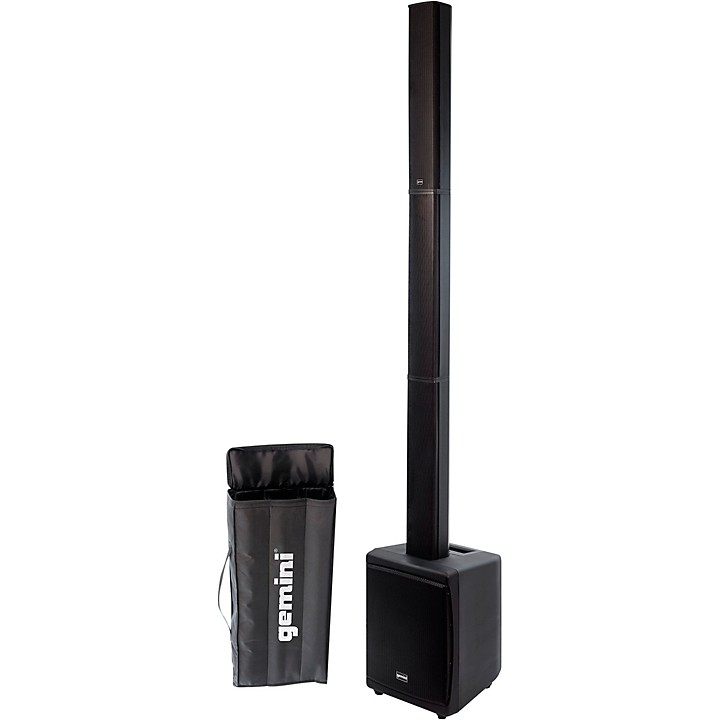 Big sound from a small package.
The PA-300BT-ToGo MKII boasts 1,200 watts of Class-D digital power, delivering a well-defined and stunning performance every time. With an onboard rechargeable battery, this portable PA system lets you cut the cord for up to six hours of playing time off the grid on a single charge.

Compact and Portable
Made to rely on less gear, lightweight and only 24 lb. means portability is practically effortless. Sound spacers can be added or taken off with one swift motion making set up or breakdown possible within seconds. Big sound can come from a small package.

Quality at Every Level
Build out impeccably tailored sound with three listening positions. This array height can be adjusted for any space and audience. You have the freedom to customize how you want your sound to be heard.

Wide Dispersion
With six off-axis drivers delivering over 120° of dispersion, this line array projects further into the room and delivers brilliantly balanced sound anywhere.

Total Mixing Control
Set up is a snap because everything you need to mix your performance is built-in. The integrated 4-channel mixer features independent volume control, mix output, reverb and DSP-based EQ presets to give you incredible sound with the press of a button.

Grab and Go
Set up legendary sound within seconds and give musical artists all around the world an incredible wireless experience with the PA-300BT-ToGo MKII. When your performance is on-the-go, the sky is the limit for accurate sound and bass.

Taking your Gemini PA-300BT-ToGo MKII column PA system on the road? Pack it in the included canvas carry bag, with padded sleeves to protect each column section from your system.
Features
Onboard rechargeable battery lasts up to six hours
Portable column-style personal line array design
Features 8" subwoofer
Built-in Class-D amplifier delivers 1,200W peak output
Adjustable height
Two input channels with XLR and 1/4"
Bluetooth capable
XLR output
Included carry bag case for PA-300 speaker columns