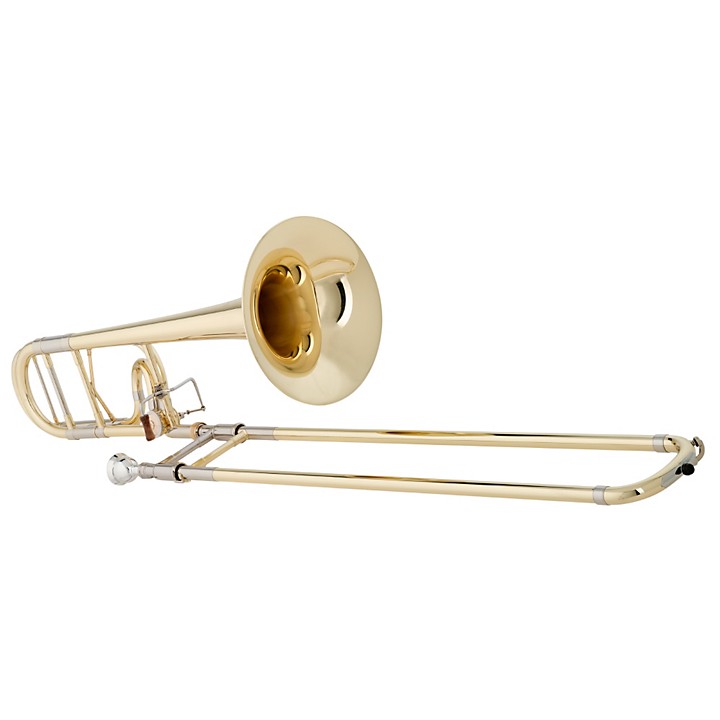 Newly designed, lots of exclusive features.
The 4047DS Custom Reserve is the first new Getzen trombone in more than a decade. Three years in the making, designed from the ground up just for you. It's not just the trombone you want, but the trombone you deserve.

Bell Section Highlights
Asymmetrical bracing that incorporates the use of both nickel silver and yellow brass. The combination of metals creates a balance within the bracing that adds to the harmonic resonance. This composition is exclusive to the 4047DS.

A newly designed neckpipe. An all new pipe taper and dimensions evens out intonation tendencies within the harmonic series to create a more consistent feel and sound. Also exclusive to the 4047DS.

Rotor and Wrap Highlights
Getzen PowerBore Rotor. This enhanced conventional rotor combines the tried and true benefits of a conventional rotor with certain design tweaks and improvements such as port diameters, rotor passageways, and back plate inserts. Exclusive to the 4047DS.

"DS" Double Edge Bracing born of the famous Edwards B454-DE bass trombone. This innovative bracing design within the bell section frees both the F attachment and the bell from inherent stress caused by conventional, invasive bracing systems improving both response and the overall resonance/liveliness of the trombone. Exclusive to the 4047DS.

Handslide Highlights
Solid nickel silver cork barrel assembly adds strength and mass to the inner handslide. Exclusive to the 4047DS. A brand new leadpipe in the Getzen world. Dozens of leadpipes were tested until the perfect match was found. As it turns out, the perfect fit was a decades old design that, until now, had been lost to history. Exclusive to the 4047DS.

A large diameter, yellow brass end crook specifically designed and chosen to provide the width of sound and consistent feel players demand. Exclusive to the 4047DS.

The 4047DS Custom Reserve is available in a Getzen exclusive fiberglass shell case. The case features adjustable interior padding and backpack straps. It is one of the smallest large bore, tenor trombone cases on the market today providing more protection than a traditional gig bag while remaining lightweight.
Features
Bore Size: .547"
Tuning Slide: Yellow brass bow; single radius taper
Handslide: Hand straightened nickel silver inside tubes (chrome plated with barrel shaped stockings)
Yellow brass outside tubes with oversized, yellow brass end crook* and nickel silver over sleeves.
Solid nickel silver cork barrel assembly*
Bell: 8 ½", yellow brass with unsoldered rim, "B" Mandrel
Special Features: "DS" yellow brass Edge Bracing
Asymmetrical Bracing on bell section for harmonic resonance
Vintage Mount Vernon fixed brass leadpipe
Mouthpiece: Griego CS5
Finish: Clear lacquer only
Valve: Open Wrap F Attachment
Getzen PowerBore Rotor