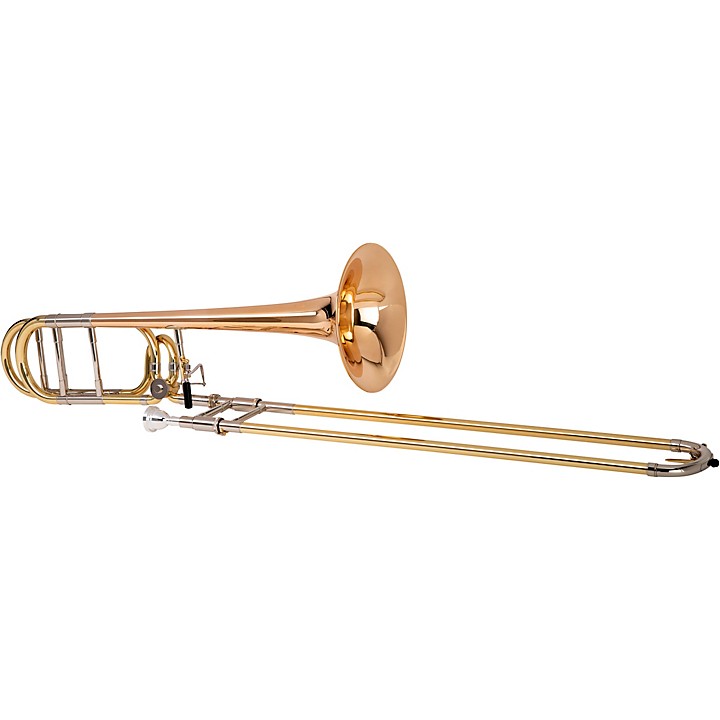 The Giardinelli GTB11 F-attachment trombone by S.E. Shires is a professional-grade trombone perfect for any musical setting. Featuring a .547" large bore and 8.5" handspun gold brass bell, this trombone produces a bold, resonant tone with outstanding projection and clarity. The torch-annealed bell throat and open-wrap F-attachment also provide an exceptionally free-blowing feel with quick response. This trombone is ideal for any trombonist looking to upgrade to a high-quality, gig-ready horn.
Responsive F-Attachment for Expanded Range
The open-wrap F-attachment on the GTB11 provides clear, full access to the lower register. The open wrap design reduces resistance for an uninhibited feel when using the F-attachment. This feature allows trombonists to easily move between registers, enabling more versatility and expression.
Free-Blowing Design for Effortless Playability
From the large bore to the gold brass bell, every part of the GTB11 is designed to produce an open, free-blowing trombone that is highly responsive. The .547" bore and 8.5" bell with torch-annealed bell throat all work together to create broad tones with minimal resistance. The hand-spun bell is made of gold brass for projection and warmth. The slide action is fast and smooth, allowing for articulate and agile playing. Overall, this trombone feels like an extension of the musician for a seamless performance experience.
Premium Materials for Resonance and Durability
Constructed using high-quality materials, the GTB11 produces a resonant, balanced tone and is built to last. The one-piece, 8.5" bell is hand-spun from gold brass for optimal tonal projection and warmth. The hand slide is durable yet responsive. All parts are assembled with precision for an instrument that sounds as beautiful as it looks. Clear lacquer finish protects the trombone while allowing it to resonate freely.
Gig-Ready With Protective Case
For musicians on the go, the included case provides durable, lightweight protection. The case features backpack straps for comfortable carrying, padded compartments to securely hold the trombone and accessories, and a rugged nylon exterior. With a case designed for transporting the trombone to rehearsals, performances and everywhere in between, the GTB11 is ready to gig at a moment's notice.
Features
Key of Bb/F with .547" large bore
8.5" handspun gold brass bell
Torch-annealed bell throat
Open-wrap F-attachment
Clear lacquer finish
Custom case with backpack straps