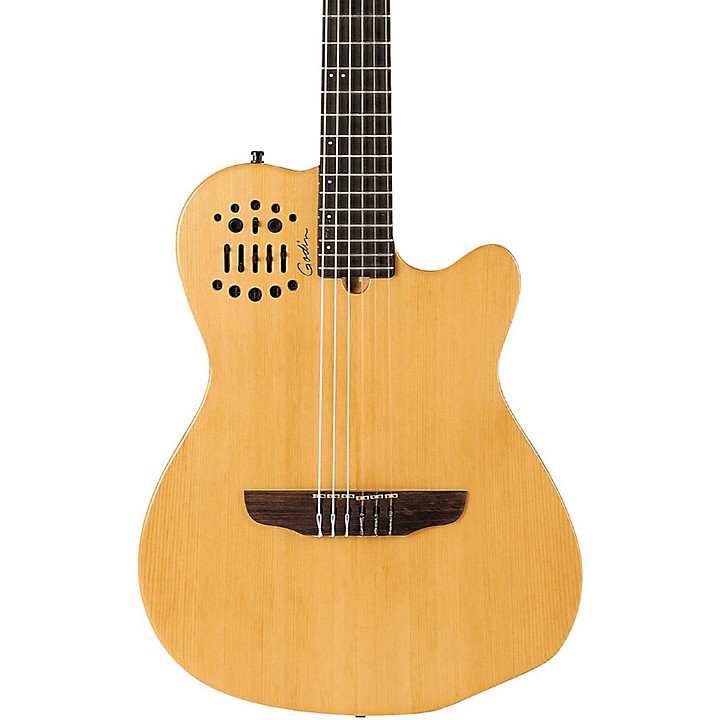 Classical nylon guitar concepts with an electric kick.
The Godin ACS-SA is a nylon-string guitar that blends classical guitar concepts with elements of solid body design. The comfortable neck from the Godin Multiac Nylon Guitar is used here with a chambered silver leaf maple body and cedar top to achieve an affordable synth access guitar. Although the body is chambered, response from the cedar top is more typical of a solid body designs than that of a traditional acoustic guitar. This design results in a guitar that is virtually free of feedback, making the Godin ACS-SA easy to use even when the band gets loud.

The engine in the ACS-SA guitar includes individual transducer saddles powered by a customized preamp system from the RMC Pickup Company. This system not only produces superb amplified sound, but also produces hexaphonic output through a 13-pin connector enabling direct access to Roland GR-Series guitar synthesizers.

Includes gig bag.

Check the drop-down menu to the right to select colors and/or other options.
Features
Mahogany neck
FSC Richlite fingerboard
16" fingerboard radius
25-1/2" scale
1-7/8" nut width
Chambered silver leaf maple body
Custom RMC electronics with 13-pin connector for direct control of Roland GR series and Axon AX100 guitar synths
Natural semi-gloss or black high-gloss finish
Includes gig bag