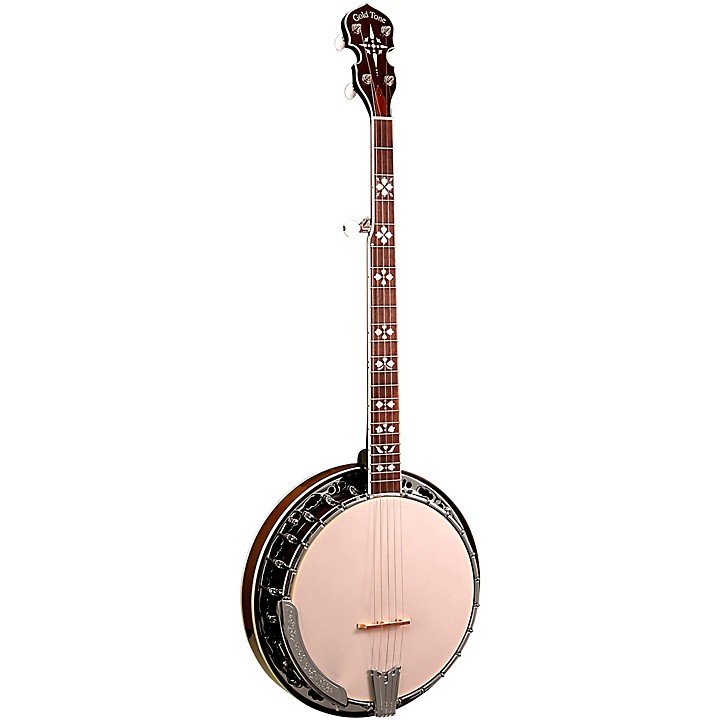 Lefty banjo with vintage aspect.
Gold Tone's BG-150F is a midline, full-size, bluegrass banjo with features typical of their pro models. This would also be an excellent instrument for players looking for a lighter weight bluegrass banjo. This instrument is the next step above their Cripple Creek models and uses a one-piece flat flange and has a full-size 14″ resonator. This is the left-handed model.

Case sold separately.
Features
Tonewoods
Neck: Maple
Bridge: Maple bridge with ebony cap; 5/8"
Fingerboard: Rosewood
Rim: Multi-Ply Maple
Resonator: 14" Mahogany
Appointments
Wood Finish: Vintage Brown
Fingerboard Inlay: Hearts and Flowers
Body Binding: Celluloid
Neck Binding: Celluloid
Hardware
Nut: Bone
Arm Rest: "Gold Tone" Engraved
Tailpiece: Straightline Tailpiece
Strings: GDGBD - .010, .024w, .016, .013, .010
Plating: Chrome
Tuners: Planetary Tuners
Tone Ring: Rolled Brass Tone Ring
Tension Hoop: Brass; Notched
Flange: One-Piece Flat Flange
Dimensions
Scale: 26-3/16"
Weight: 8 lb.
Nut Width : 1-3/16"
Frets: 22
Head Size: 11" Remo High Crown Frosted
Total Length: 38-3/8"