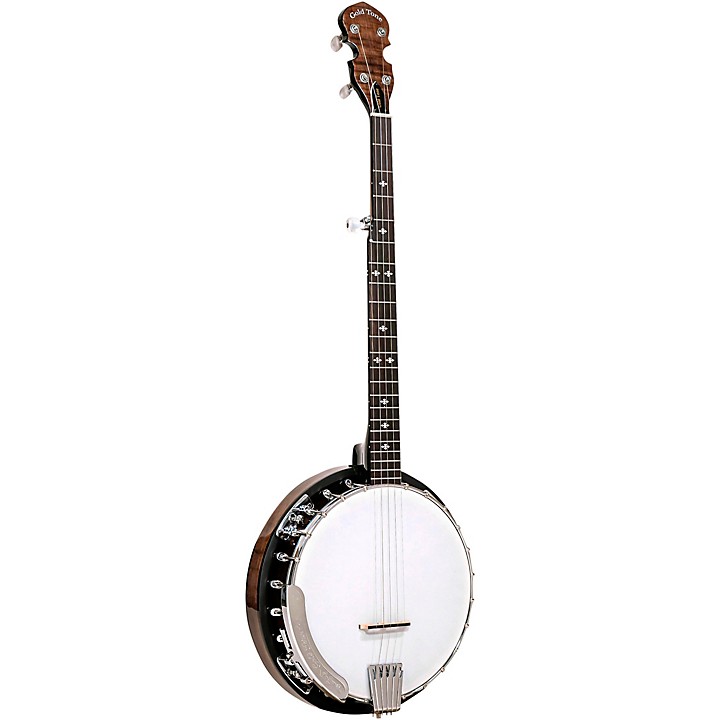 Gives beginners a leg-up on style and tonal substance.
Gold Tone's Cripple Creek CC-100R+ is an entry-level banjo that gives you more bang for the buck. Over 7,000 Cripple Creeks have been sold in the last 12 years, and have proven by far to be one of the best student banjos for tone and playability in its price range. With a complete setup at the Gold Tone Factory in Florida, they are durable, have low string action and are a pleasure to play.
The CC-100R+ model features a hard maple neck, rim, and convertible resonator, black binding on the neck and resonator, dual coordinator rods, curly maple headstock veneer, Straightline tailpiece, brass tone ring, 2-way adjustable truss rod, and low string action for the beginning banjoist.
Features
Tonewoods
Neck: Hard rock maple
Fingerboard: Rosewood
Bridge: Maple with ebony cap; 5/8
Resonator: 13" maple
Rim: 3-ply rock maple
Finishing Touches
Wood Finish: Vintage Brown
Fingerboard Inlay: Snowflake
Neck Binding: Celluloid
Body Binding: Celluloid
Inlays: Mother-of-pearl snowflakes
Hardware
Nut: Bone
Tuners: Planetary Tuners, Geared 5th string tuner
Tailpiece: Straightline Tailpiece
Strings: GDGBD - .010, .024w, .016, .013, .010
Plating: Chrome
Tension Hoop: Steel
Tone Ring: Rolled Brass Rod
Arm Rest: "Gold Tone" Engraved
Brackets: 24
Dimensions
Scale: 26-3/16"
Weight: 6.6lb.
Nut Width : 1-3/16"
Frets: 22 Medium
Head Size: 11"
Total Length: 38-1/8"