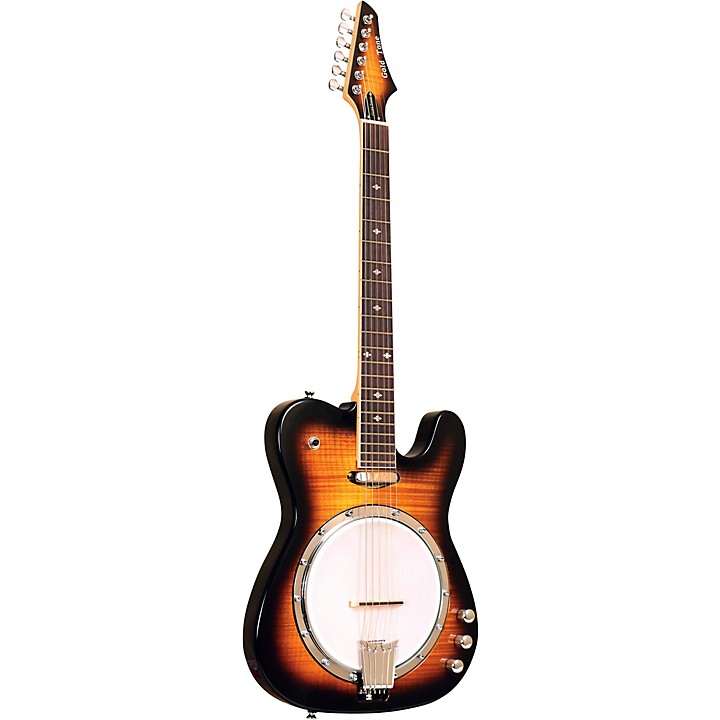 Solid body six-string banjo.
The ES-Banjitar, like a normal banjo, has extremely fast response compared to a regular electric. Hammer-ons, pull-offs, and slides are accomplished with incredible ease. Even unplugged, the ES-Banjitar banjo guitar has an excellent banjo tone due to the hollow sound chamber within the body. This instrument is great for country music, blues, jazz, or any style where a banjo tone is desired without the need for learning the traditional 5-string banjo.
The ES-Banjitar features an 8" tone ring and banjo head, dual pickup configuration with a stacked humbucker in the neck position and a hidden humbucking pickup beneath the banjo head in the bridge position, volume and tone controls, Straightline tailpiece, mahogany body, maple neck with bound rosewood fingerboard, and low string action. The ES-Banjitar has a scale length of 25-1/2" and uses standard ball-end guitar strings.

Final assembly and complete setup performed at the Gold Tone Factory in Florida. Available as left-handed model.
Specifications
Neck: Hard Rock Maple
Finish: Tobacco sunburst
Fingerboard: Radiused Select Wood
Bridge: Maple with Ebony Cap
Tuners: Sealed Guitar-Style
Inlay: Snowflake
Truss Rod: Two-Way Adjustable
Tone Ring: 8" Aluminum
Tension Hoop: Top Tension-style
Binding: White ABS
Hardware: Chrome Plated
Pickups: Stacked Single Coil Humbucker at Neck & SMP Humbucker Under Head
Tailpiece: 6-String Straightline
Head: 8" HC Smooth
Number of Frets: 21
Nut Width: 1-11/16"Bone
Scale Length: 25-1/2"
Weight: 8 lbs.
Tuning: EADGBE
Strings: .010 .013 .020w .032w .042w .052w
Hard Case: HDE (Optional)
Left-Handed Available: Yes
Features
Looks like an electric, sounds like a banjo
8" Aluminum tone ring
Humbucker & SMP pickups
Tobacco sunburst finish