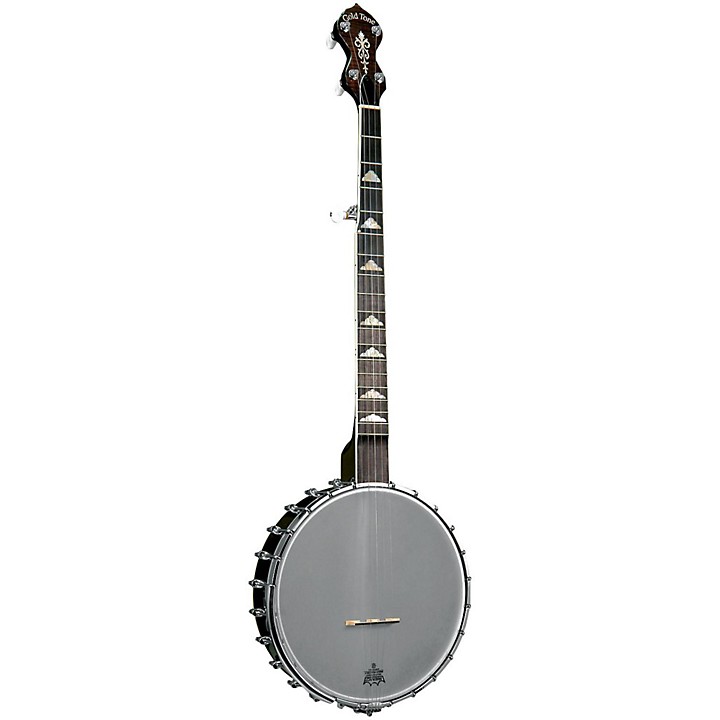 Open back excellence for classic tone and vibe.
Gold Tone's most popular open back banjo, the White Ladye WL-250 provides a plunky, yet punchy, tone well-suited for old-time and folk music. This model features an accurate replica of the vintage and highly sought after 3-part White Ladye tone ring coupled with a 1/2" rim for maximum air chamber volume. Other features include a maple neck and bound ebony fingerboard with cloud inlays and frailing scoop, double adjusting truss rod, vintage heel design, Fairbanks-style headstock shape, GT Master planetary tuners, 11" Renaissance head, no-knot tailpiece, and dual coordinator rods for a solid neck fit and easy adjustment capabilities. Final assembly and a complete setup at the Gold Tone Factory in Florida.
Features
Tonewoods
Neck: Hard Rock Maple
Fingerboard: Ebony with fingerboard scoop
Bridge: Maple with ebony cap; 5/8
Rim: 1/2" maple
Finishing Touches
Wood Finish: Tobacco Brown
Fingerboard Inlay: Cloud
Body Binding: Celluloid
Neck Binding: Celluloid
Inlays: Mother-of-pearl clouds
Scoop: Frailing
Hardware
Head: Remo Renaissance
Nut: Bone
Tuners: GT Master Planetary Tuners
Tailpiece: No-knot Tailpiece
Strings: GDGBD - .010, .024w, .016, .013, .010
Plating: Chrome
Tension Hoop: Brass; Notched
Tone Ring: White Ladye Tone Ring
Arm Rest: Vega-Style Armrest
Dimensions
Scale: 26-3/16"
Weight: 6.7 lb.
Nut Width : 1-3/16"
Frets: 28 Medium
Head Size: 11" Remo High Crown Renaissance
Total Length: 38"