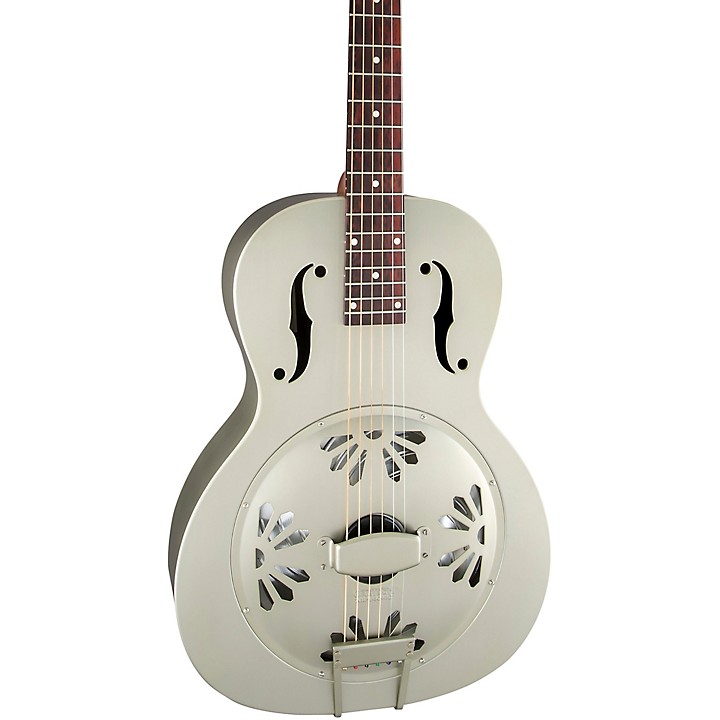 Traditional nickel-plated brass body design with modern construction.
The Gretsch G9201 Honeydipper Metal Resonator marks the return of resonators to the Gretsch family. It has a round neck that's perfect for blues-based music such as Mississippi Delta blues, country blues or even ragtime blues.

The G9201 features a nickel-plated brass body with traditional-style F holes. The heart of this richly resounding guitar is the Gretsch Ampli-Sonic resonator cone, hand-spun in Eastern Europe from nearly 99-percent pure aluminum for fantastic volume and sonic projection.

Gretsch is proud to take players on a musical journey through nearly a century of great Gretsch history by introducing its Roots Collection of acoustic instruments. This exciting family of banjos, mandolins, resonator guitars, ukuleles and Rancher acoustic guitars feature classically authentic Gretsch designs that transport players to a bygone era well before the company made its acclaimed 1950s entry into the electric guitar world.

Case sold separately.


Features
Round neck
Nickel-plated brass body
Mahogany neck
25" scale length
Padauk fingerboard
Ampli-Sonic cone
Biscuit bridge