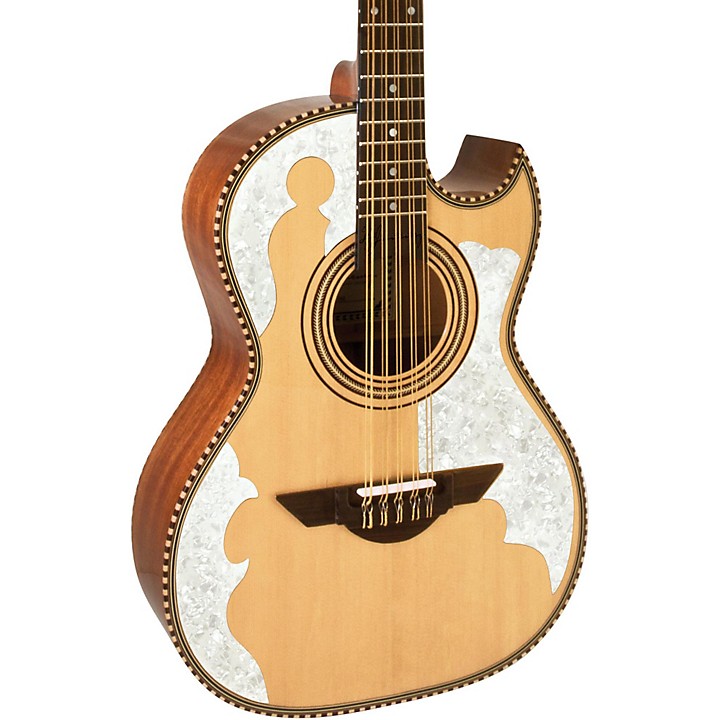 Traditional looks with modern electronics.
The full-bodied LBQ4E is H. Jimenez's most traditional looking bajo quinto with its 3 H. Jimenez style pearloid micas. The well-seasoned close grained spruce top is very resonate and responsive. The back and sides are rich mahogany trimmed with maple and rosewood edges. It has a great feel with a strong voice to punch through and be heard. The 18-fret rosewood fingerboard ends with the Jimenez signature laser logo and special "Thunderwing" rosewood adjustable saddle bridge.

The LBQ4E is equipped with a factory-installed, natural-sounding soundhole Seymour Duncan SA-1 pickup. This sleek passive no-hum design has a convenient onboard volume control and is wired directly to a strap button/end pin style jack.

All H. Jimenez bajo quintos feature a specially designed rosewood H. Jimenez Thunderwing bridge with adjustable saddle for optimum performance, high-quality natural rosewood fingerboard with H. Jimenez laser logo in the end as well as the H. Jimenez headstock shape and arrow rosette. All H. Jimenez bajo quintos ship with padded gig bag with logo and are covered by Limited lifetime warranty.
Features
Bridge: Specially designed Rosewood H. Jimenez Thunderwing bridge for deep booming bass response and adjustable saddle for optimum performance
Fingerboard: Natural rosewood fingerboard with H. Jimenez laser logo in the end
H. Jimenez headstock and arrow rosette design
Bracing: Special Bajo Quinto brace design pattern developed by Layo Jimenez
Neck: Mahogany neck with a traditional comfortable bajo profile - 25 1/2" scale
Top: Solid spruce top for the best projection and tone
Sides and back: High-quality mahogany for a crisp focused sound
Edges: Rosewood and maple edges with purfling
Pickup: American-made Seymour Duncan SA-1 passive pickup with a flat response to provide a traditional warm, pure uncolored natural tone with convenient on-board rotary volume control
Soundhole pickup is factory installed with strap button style end pin jack
Gig bag: Padded black nylon logo bag with zipper pouch and shoulder straps
Covered by a Limited Lifetime Warranty