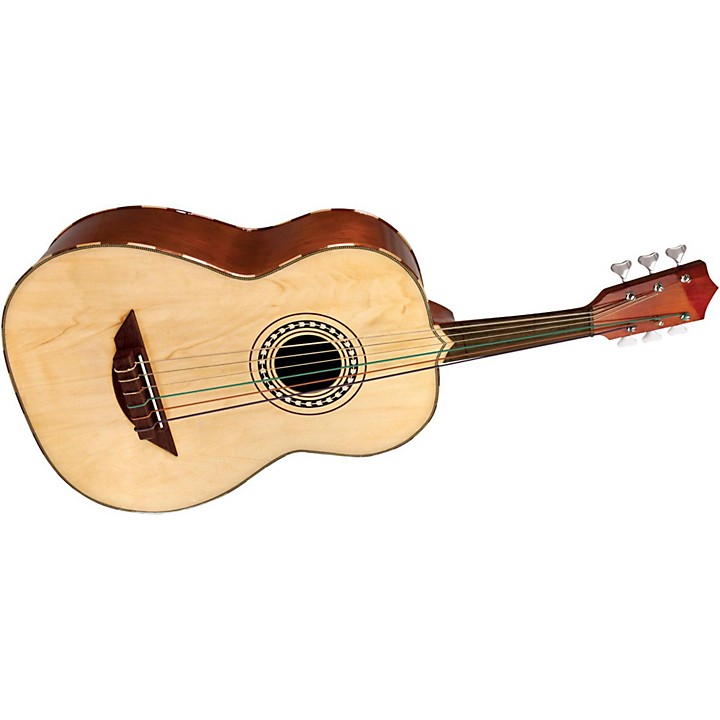 This guitarron is all about that bass, 'bout that bass, 'bout that bass. It's also gorgeous to look at and fun to play.
From the tip of the signature pointed H. Jimenez headstock to the Mariachi teacher-requested strap buttons, this special guitarron design delivers a lot of bass punch. Notice the front and back body edges are traditional hand-fitted alternating maple and mahogany wood pieces. The rosewood fingerboard has the signature H. Jimenez laser logo and the arrow rosette. The special H. Jimenez designed rosewood Thunderwing bridge saddle allows for optimum action. The very smooth action tuners and booming round tone strings give this guitarron a powerful thundering tone.

All H. Jimenez guitarrons feature a specially designed Rosewood H. Jimenez Thunderwing bridge with adjustable saddle for optimum performance, high-quality natural rosewood fingerboard with H. Jimenez laser logo in the end, as well as the H. Jimenez headstock shape and arrow rosette. All H. Jimenez guitarrons ship with padded gig bag with logo and are covered by Limited lifetime warranty.


Features
Bridge: Specially designed H. Jimenez Thunderwing for deep booming bass response and adjustable for optimum performance
Fingerboard: Natural rosewood fingerboard with H. Jimenez logo lasered in the end
Strap pins: Chrome strap pins installed for double attached straps (requested by Mariachi teachers)
Nut/Neck: Traditional rosewood nut provides warm rich tone / comfortable profile
Mahogany neck: 26" scale
Bracing: Traditional style brace design
Edges: Traditional mahogany and maple edges with purfling
Tuners: Smooth action geared chrome tuners
Arrow soundhole rosette
Deluxe padded black nylon logo bag is included with zipper pouch and shoulder straps