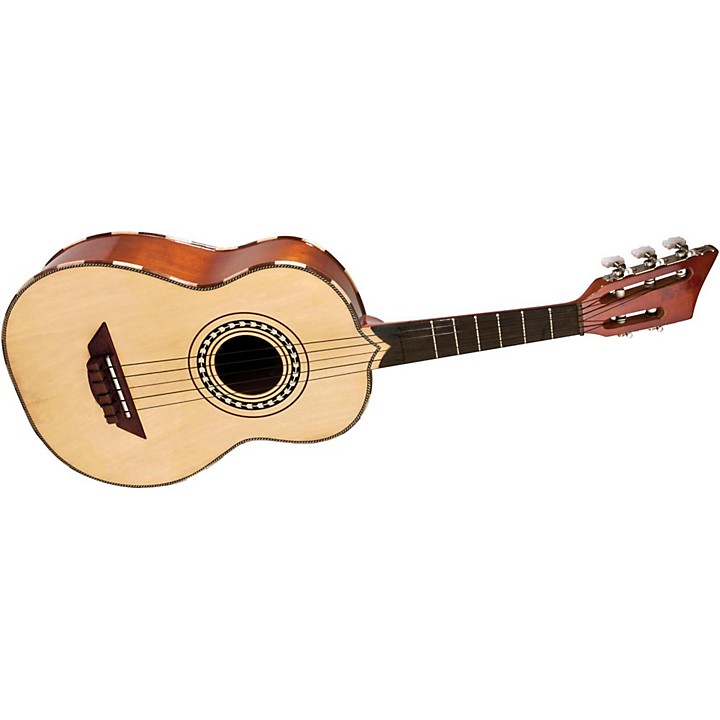 A unique looking and sounding instrument with special bridge for better performance.
The aptly named El Quetzal (Beautiful Songbird) vihuela is special in several ways. At first glance, you will notice the the arrow rosette around the soundhole and that the front and back body edges are hand-fitted alternating maple and mahogany wood pieces. Mariachi teachers and players will appreciate the additional two frets of tonal range (total of six frets), functionality of two strap buttons, and smooth action tuners. The rosewood fingerboard has the signature H. Jimenez logo lasered in the end, but most notably, this vihuela is equipped with the special H. Jimenez design rosewood Thunderwing bridge with saddle for optimum performance.

All H. Jimenez vihuelas feature a specially designed Rosewood H. Jimenez Thunderwing bridge with adjustable saddle for optimum performance, high quality natural rosewood fingerboard with H. Jimenez laser logo in the end, as well as the H. Jimenez headstock shape and arrow rosette. All H. Jimenez vihuelas ship with padded gig bag with logo and are covered by a limited lifetime warranty.
Features
Specially designed Rosewood H. Jimenez Thunderwing bridge with adjustable saddle for optimum performance
High-quality natural rosewood fingerboard with H. Jimenez laser logo in the end
H. Jimenez headstock shape and arrow rosette
Ships with padded gig bag with logo
Covered by Limited lifetime warranty