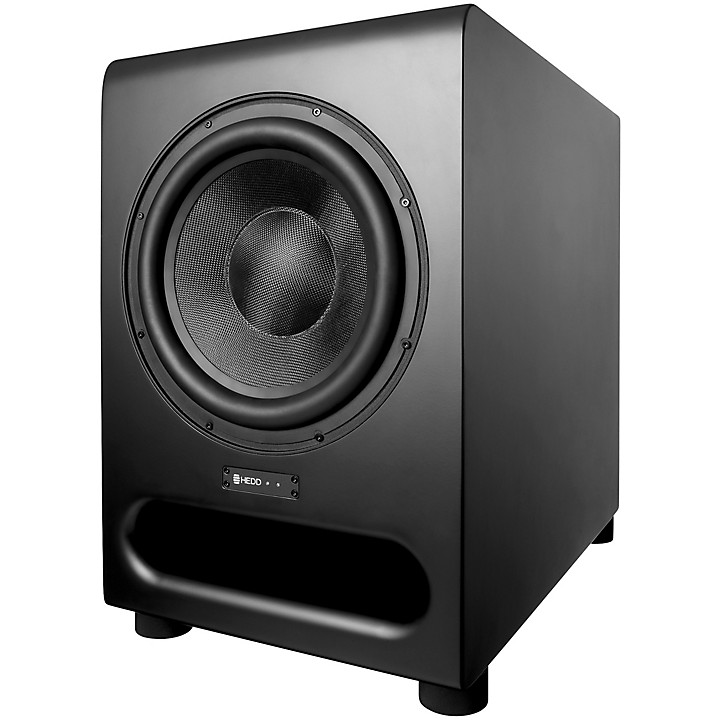 Durable and compatible subwoofer.
Studio engineers requiring powerful and precise low-frequency reproduction will be dazzled by the black HEDD Audio BASS 12, a compact studio subwoofer that's compatible with any previous model studio monitor, but it really shines when used with the latest HEDD MK2 models.

The BASS 12 features an onboard Lineariser, a phase linearization tool that audibly improves spatial reproduction as well as port plugs that allow the monitor to go from a bass reflex design to a sealed infinite baffle. The rear panel features a Closed or Ported selection knob, a Low-Frequency Extension control, and switchable low-pass filter with different crossover frequencies including two LFE modes.

The BASS 12 also features the Linear Phase satellite-subwoofer system, which applies a switchable group delay at the satellite output. The potential listener distances between subwoofers and satellites can be compensated in .5 dB steps within a ±2m range. When used with HEDD MK2 monitors, a Linear Phase satellite system can be installed for the first time. The 12" honeycomb composite woofer provide an accurate frequency response of 20 to 80 Hz with a maximum SPL of 115 dB (at 1m).

The sturdy unibody casing features a lacquer finish for high durability and overall aesthetics. The enclosure ensures that the cabinet remains stable and provides effortless audio, even at full power. The ICEpower amplifier offers 700W and is universally powered for compatibility anywhere in the world. The rear panel also features two balanced XLR Inputs and a digital AES input and throughput.

Onboard Lineariser

Implemented in the MK2 and subwoofer models is the well-known Lineariser, a phase linearization tool that leads to perfect impulse response and audibly improved spatial reproduction. The BASS 12 utilizes a lacquered finish for high durability and great aesthetics.

CoP Technology

Users for the first time can choose between the energy and bass capacities of a modern bass-port design and the painstaking precision and control of a closed-cabinet approach. Removable plugs for the bass reflex tubes, together with accordingly designed filter setups, allow optimum results in either mode.

Linear Sub Satellite System

HEDD Audio introduces a completely phase-linear Sat-Sub system. These are the first satellite-sub systems that are completely right in time by combining a phase-linearized subwoofer with a correspondingly time-delayed (group delayed) satellite output (satellites sold separately). Additionally, the listener can compensate eventual distances between subwoofers and satellites to stay with linear phase reproduction for the complete system.

Specifications
Woofer (honeycomb diagram) Frequency response Upper frequency limit (var.) LF range (-3 dB) normal/extended Input analog and digital (AES) 2x XLRInput impedance (balanced) Input gainInput sensitivity
0 dB = 90 dB SPL/m -10 / -4 / 0 / +4 dB
Output AES "through" HEDD Lineariser disengageable, delay Phase switch Satellite offset (analog out) Frequency response Maximum SPL at 1 m (half space) Power amplifier / universal mains
110 - 240 V 700W ICEpower
AD/DA Conversion Cabinet with satin lacquer finish Dimensions (H x W x D) Weight Warranty
Features
Implemented in the MK2 and subwoofer models is the well-known Lineariser, a phase linearization tool that leads to perfect impulse response and audibly improved spatial reproduction
The BASS 12 utilizes a lacquered finish for high durability and great aesthetics
Users for the first time can choose between the energy and bass capacities of a modern bass-port design and the painstaking precision and control of a closed-cabinet approach
Removable plugs for the bass reflex tubes, together with accordingly designed filter setups, allow optimum results in either mode
HEDD Audio introduces a completely phase-linear Sat-Sub system. These are the first satellite-sub systems that are completely right in time by combining a phase-linearized subwoofer with a correspondingly time-delayed (group delayed) satellite output (satellites sold separately)
Additionally, the listener can compensate eventual distances between subwoofers and satellites to stay with linear phase reproduction for the complete system