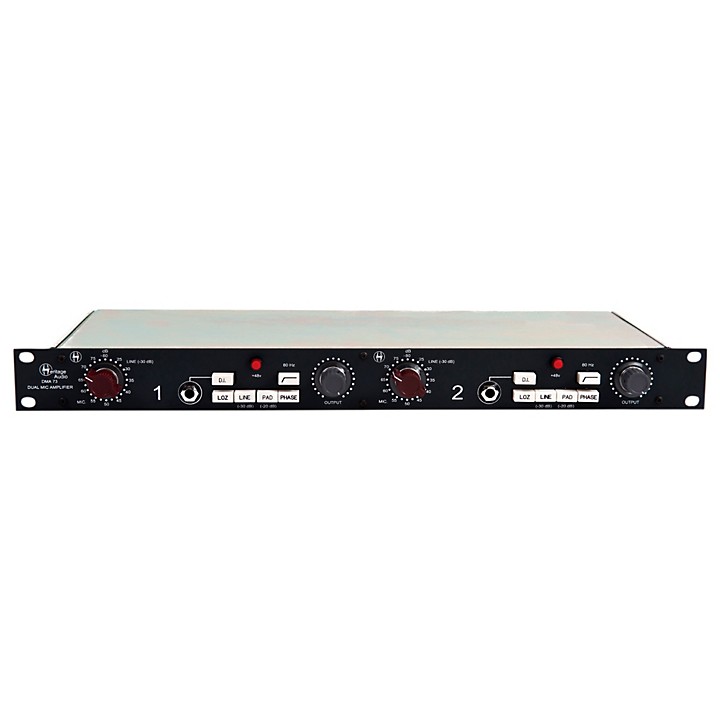 Dual-channel microphone preamp clone of the original Neve 1073.
The Heritage Audio DMA-73 is a dual-channel mic pre with a sound and circuitry almost identical to that of the legendary Neve 1073. A name found in almost every major recording facility, Rupert Neve carved the way for high-end audio components and his classic 70s modules are still highly sought after today. The Heritage Audio DMA-1073 lets you bring this legendary sound home to your own studio without the cost and time of tracking down the original. Two XLR mic and line inputs on the rear and two 1/4" TRS inputs on the front of the DMA-73 will handle any source you can think of. Combine that with outstanding Class A preamps at up to 80dB of gain for mics and 50dB for line signals, and you've got pristine, legendary sound quality for today's modern home or project studio.
Specifications
PAD: 20dB Mic input attenuation ahead of the input transformer to avoid overloading it.
HI PASS FILTER: Active all discrete Class A 3rd order Bessel, 80Hz Hi Pass Filter. 18dB/octave slope.
OUTPUT control to allow overloading of the preamp.
External linear PSU to avoid electromagnetic radiation into the audio transformers ( a.k.a. hum ).
Carnhill Input and Output transformers.
Microphone input impedance: HI, 1200 Ohm minimum, LO, 300 Ohm minimum. Higher gain positions gradually have greater impedances, optimum for lo gain ribbon mics. Input is Carnhill transformer balanced and floating.
Line input impedance: 10K Ohms bridging, Carnhill transformer balanced and floating.
DI input impedance: Greater than 2 Megohms, unbalanced.
Output impedance: Less than 75 Ohms, Carnhill transformer balanced and floating, to drive a load of 600 ohms (factory terminated).
Maximum output: Greater than +26dBm into 600 ohms.
THD: Less than 0.025% at 1 Khz, less than 0.05% at 100Hz.
Frequency response: 20Hz ( +0.3dB ) to 20Khz (-0.2dB)
Maximum gain: Slightly greater than 80dB
Noise: Less than -100dBm.
Power consumption: Less than 200 mA @24VDC
Features
80dB Class A Microphone preamplifier, ideal for old ribbon mics
50Db Class A Line preamplifier, bridging input impedance, balanced and floating
All discrete Class A Ultra High Impedance J-Fet Direct Input on a high quality Neutrik Jack
Class A single ended, 2N3055 driven, high headroom output stage
Individual Neutrik gold plated XLR connectors for microphone and line inputs
Gold Plated Neutrik XLR output
3 gain stage, genuine B283 gain card modular construction.
Marconi style knobs and vintage style engraved pushbuttons.