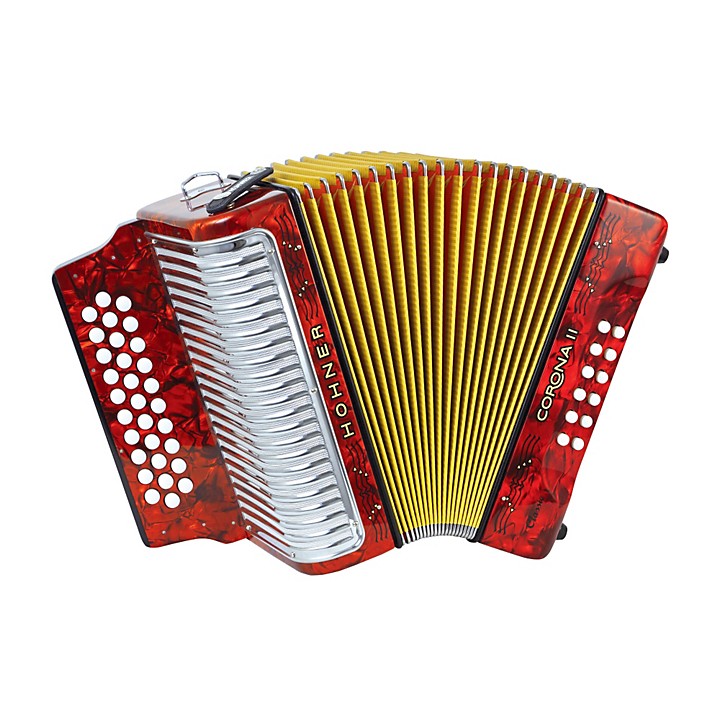 Great sound, look, and build quality.
Many accordions have been developed throughout the years but few achieve iconic status like the Corona II. It was the Corona II that started it all in the three-row button accordion world. Its unique design, signature sound and quality has made this the preferred instrument a must for all styles of music around the world. The Hohner Corona II Classic is the ultimate articulation of the Corona concept.

The Corona II Classic accordion is made with the professional in mind. It is ideal for the musician who demands great quality and the signature HOHNER sound. Using the workmanship of days past, each instrument is lovingly finished in great detail.

The wooden keyboard covered with celluloid in matching colour, gives the instrument a lavish appearance, and is its most striking detail. HOHNER upgraded the current line of accordions with new adjustable bass strap and logo. The Corona II Classic comes with a gigbag and updated straps as well.
Specifications
Reed plate quality: standard
Number of buttons: 31
Button rows: 3
Number of notes: 62
Class: diatonic
Voices: 2
Tone colors: 1
Standard basses: 12
Standard bass voices: 5
Size (height x width): 31 cm x 19 cm
Weight: 8.8lb
Case: Gig Bag
Key: G/C/F
Features
Uncompromising quality
Handsome appearance
Great sound
Includes case and straps