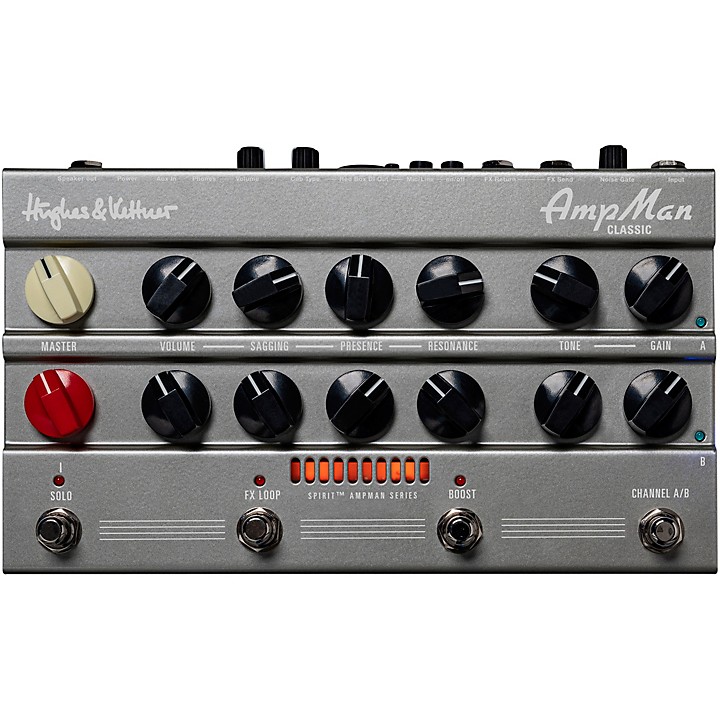 Two strictly analog channels with fully independent controls.
AmpMan features two fully independent channels with dedicated Gain, Tone, Resonance, Presence, Sagging and Volume controls and pre-gain Boost fine-tuned for that channel. This means you don't have to entertain any compromises when voicing channels and setting volume levels. Total tonal freedom is within easy reach! And you can let that freedom ring loud and clear with the nifty Solo function. With this special feature, AmpMan not only strikes the right tone; it does so at the right volume. The built-in footswitches select channels and activate Boost, the FX Loop and the Solo function. If you wish, AmpMan can even recall your Solo, Boost and FX Loop settings when you switch channels.
Channel 1 of the AmpMan Classic serves up a sensuous experience in sound with all the immediacy and liveliness of single-channel amps with no master knob. These are the iconic sounds of the '60s and early '70s pioneered by the rebels who created the blueprint for rockin' tone. This channel's hallmarks are its wide dynamic range and touch-sensitive response to your phrasing. Roll back the Gain and Sagging knobs, and it delivers crystal-clear, sparkling clean sounds. Set the Sagging knob to 12 o'clock or so, and it breaks up just like the tube amps of yore to produce warm, woolly distortion replete with rich overtones. Hit the Boost button, and it pumps out the thrilling sound of a fully cranked tube amp with an upstream booster.
Channel 2 delivers the genre-defining full-stack sound of the arena rock era. This is the place to go if you want a huge sound to inspire melodic solos and virtuoso tapping. This channel purrs when you pick softly, snarls when you dig in, and roars whenTHEyou punish those strings. It is so touch-sensitive and responsive that your guitar's volume knob puts the full range of tones from crunch to lead at the beck and call of your pinkie. The Sagging knob works like a variable turbocharger, welcoming you to the world of brown sound. Every string rings out with each note clearly distinguishable. Activate Boost, and this channel will greedily siphon every drop of tone out of those pickups even at the softest touch of a string. Tapping suddenly seems effortless.

Chock-full of features

AmpMan makes no compromises when it comes to tone, and the same goes for its feature set. Whatever use case you have in mind—as a standalone amp, as your pedal board's sound hub, for practicing at home or for recording in the studio—AmpMan sports the right connectors for every scenario.

The boss on the pedalboard

Rather than a three-band EQ section, AmpMan's preamp sports one exceedingly effective sound-shaping tool for each channel: That Tone knob dials in everything from British to Californian flavors, all the shadings in between, and lots of other sounds beyond that. The Resonance, Presence and Sagging knobs shape the power amp's tone. This combination of controls makes AmpMan so phenomenally flexible. It lets you tweak and enrich your pedals' signals with preamp and power amp voicing options to bring out the best in your upstream stompboxes.

The footswitchable, serial FX loop is available for inserting reverb and delay effects. The built-in noise gate engages before the signal hits the FX Send so reverb tails fade and delays decay naturally. In-ear monitoring is an exercise in convenience with the Red Box AE+ and its eight painstakingly selected speaker models. The Red Box, adjustable Phones output and Stereo AUX In provide a self-sufficient, professional-grade monitoring option with no outboard gear needed. All you have to do is blend the stage mix in with the headphones signal.

Spirit Tone Generator
The Spirit Tone Generator technology in faithfully recreates the natural yet wildly complex interactions of traditional tube amp circuits in a 'bionic' way. This miniature masterpiece distills the essence of tube amp physics, with all of the intensity and responsive tonal behavior, into a compact, strictly analog circuit that promises unbridled playing pleasure.
Innovative power amp sagging control

The Spirit Tone Generator lets you dial in power amp saturation as easily and effectively as on a conventional amp, but in a far more manageable way. That makes it a creative sound-shaping tool to rival any gain knob. Best of all, it does this at any volume level.

The Sagging knob affords you instant access to the stuff of legends—that is, to the sound of a cranked amp on the verge of meltdown; to that magical energy that can not only be heard, but also felt. A sensitive tool, this control dials in everything from totally dry to heavily compressed and all points in between.

And in the studio

Able to deliver big sound in a professional studio or even with the smallest recording setup, AmpMan is your trusty tone-sculpting sidekick—no cab or microphone needed.

The balanced Red Box DI Out delivers top-drawer signal with or without cabinet emulation. Use any of the Red Box's eight cabinet models or send the Spirit Tone generator's unfiltered, purely analog signal to your DAW to take advantage of all the perks of the digital world—speaker emulations, mic modeling, room simulations, effects and any other signal processor that strikes your fancy. But whatever way you choose to go, rest assured that inspiring, spine-tingling sound is always within easy reach.

Red Box—the industry standard since 1989

In April 1988, the German Patent Office granted a patent for a Hughes & Kettner invention that would change the way amps' sound is captured on stage and in the studio. A simple yet ingenious alternative to mic'ing speakers, the idea was to tap the signal between the amp and cabinet, filter it, and patch it out via a balanced XLR out to provide a signal suitable for every use case.

With well over 100,000 Red Boxes out there in the world, this ultrareliable option has come to be an industry standard. The latest generation of the Red Box, the AE+ features no less than eight simulations of selected cabs (AE is short for Ambience Emulation). Ultra-direct response is assured with its zero-latency filtering. For all the computing power that it demands, conventional IR filtering simply cannot match the AE+'s ultradirect attack and responsive feel. And that's why the DI box that can beat the Red Box has yet to be invented. On stages, the Red Box has no rivals.

Specifications
Power Output
50 watts @ 4 ohms, 25 watts @ 8 ohms, 12.5 watts @ 16 ohms
Channels
2 fully independent channels
Noise Gate
Idb (intelligent dual breakpoint): noise gate
Boost
Channel-tailored boost, switchable
Solo Control
Adjustable 0 t0 +6dB, switchable
FX LoopRed Box Ae+
Mic/lLine-level, XLR-balanced
Cab Types
1: 1x12″ Modern Thiele Port
2: 2x12″ Modern Front Port
3: 2x12″ Vintage Open Back
4: 4x10″ Alnico Open Back
5: 4x12″ Vintage Cab
6: 4x12″ British Cab
7: 4x12″ Modern Cab
8: 4x12″ American Cab
AUX Input Mini JackPhones/Line JackSpeaker OutDimensions (WxHxD)WeightDimensions Power Supply (WxHxD)Weight Power Supply
Features
Two strictly analog channels with fully independent controls
Channel-tailored Boost
Switchable, serial FX loop
Powerful tone control that sweeps from British to Californian flavor
Presence and resonance power amp voicing to bring out the best in your stomp boxes
Unique sagging control that lets you dial in sweet power amp saturation at any volume
Master volume plus switchable solo volume
Built-In IDB noise gate
Red Box AE+ DI-out with 8 cabinet simulations that delivers studio quality tone straight to desk
Stereo Aux-In lets you jam to play alongs an makes in-ear monitoring is an exercise in convenience
Adjustable stereo headphones out
Integrated 50 watts Ultra-Response power amp