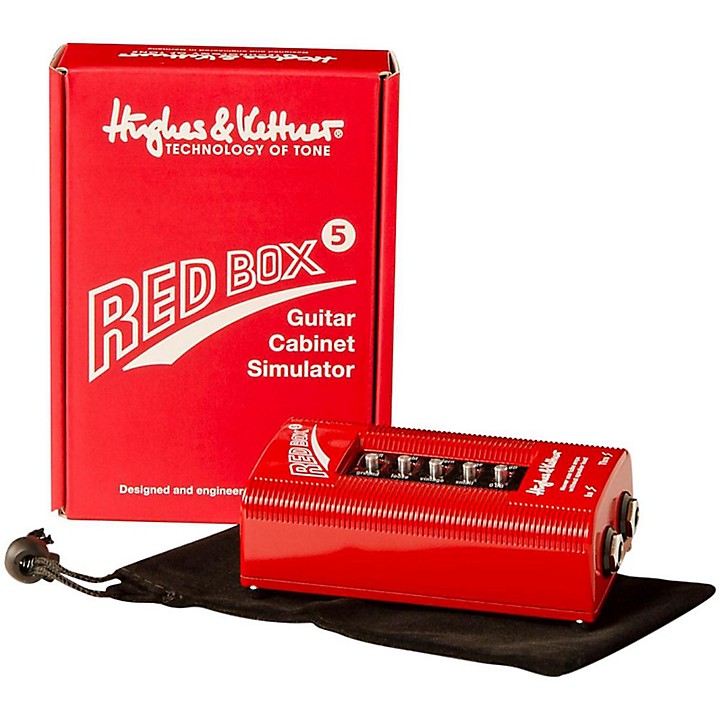 Speaker simulation refined.
Fewer products in musical instrument retail have made as big a splash in the last 25 years as the Hughes and Kettner Red Box. At its debut, it was revolutionary. Now in its fifth reimagining, the H&K RED BOX 5 is positively evolutionary.

Since its late-'80s release, the original Hughes & Kettner Red Box has been the standard tool for capturing the sound of guitar amps without using microphones. The Red Box 5 is the latest version of the award winning industry-standard DI box with speaker simulation, now with new filtering options for small/large housings, modern/vintage speakers, and loose/tight response of the cabinet. It delivers unvarying sound quality at every gig or recording session, putting an end to crosstalk with other instruments or hassles of experimenting with microphone placement.

Thanks to this clear, direct sound, Red Box 5 will endear you to every seasoned PA tech and studio engineer. The Red Box does not sound like a mic´ed cab, it sounds likle the cab itself! And the secret behind many of today's best sounding guitar tracks is that they are double-tracked with a microphone and a Red Box, or that the pure Red Box signal is run through microphone- and room-emulating software plug-ins. This enables a perfect mix of ambience and ultra-direct attack.


Connections
The RED BOX 5 provides one unbalanced ¼" (6.3 mm) jack input (IN) for line and speaker signals and two different outputs: One unbalanced ¼" (6.3 mm) jack (THRU)lets you patch through the unprocessed signal to the cabinet. One balanced XLR connected lets you feed the processed signal to a mixing console. Note that some mixing consoles do not provide phantom power. In that case, the RED BOX 5 is ready for an optional power supply and comes with a compartment accommodating a 9 V battery.


Control features
The RED BOX 5 features the usual Ground Lift switch and Pad switch to adjust input gain. There are also three sliding switches that provide some unusual sound-shaping filters. Providing rather more subtle than dramatic EQ, they help you conjure the sound of your favorite cab. These filters' action is most evident in slightly overdriven and heavily distorted lead sounds.

Loose/Tight: "Tight" gives you a taut, dense tone that's great for throatier riffs. žLoose" conjures an airier, softer sound.

Vintage/Modern: The žModern" voicing gives you the bark and honk of modern speakers, while žVintage" yields a warmer, woollier tone associated with old-school cabs.

Small/Large: "Small" captures the compressed sound of a small housing; žLarge" gives the you greater girth and added bass of a sizable cabinet.

Ground/Lift: This switch severs the RED BOX 5's ground circuit to eliminate humming or buzzing caused by ground loops. As the name suggests, "Lift" severs the connection.

0 dB / -26 dB: Your choice of input gain level can make or break your sound. If it's too high, you'll get undesirable distortion. If it's too low, the noise floor can degrade your signal. As a rule of thumb, go with ž-26 dB" for speaker signals and ž0 dB" for line signals. There are some instances where ž0 dB" is the more sensible choice for speaker signals: The amp's master volume level determines the speaker's output level directly, so of course the signal level drops markedly when you turn the master volume well down, for example, when you want to record at home at moderate volume.
Specifications
Dimensions 113x38x60 mm
Weight 200 grammes
Features
Authentic cabinet emulation
Sound-shaping filters
Broad attenuation range
Versatile input scheme