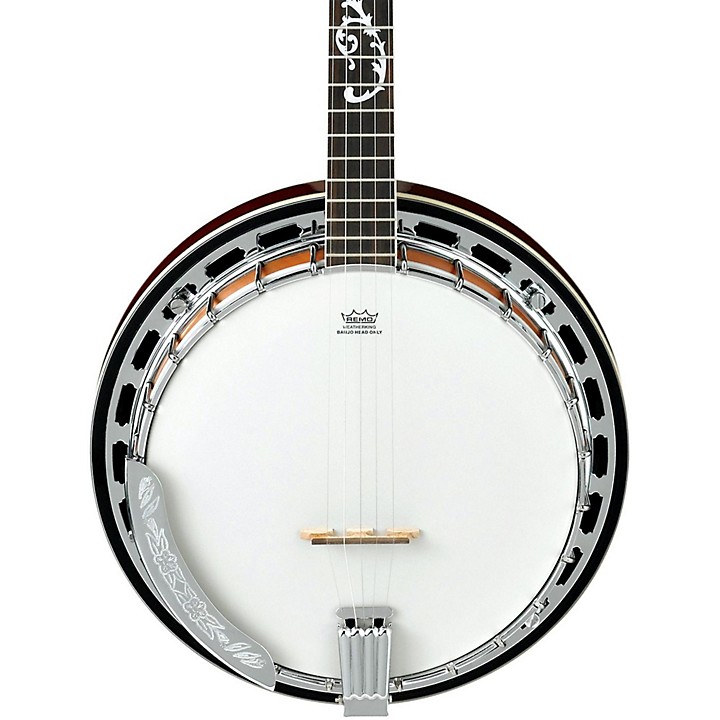 Sweet-sounding banjo with stylish flair sure to impress.
It's been three decades since Ibanez was in the banjo business, but the'yre back with a bang (or is it a twang?) with the B200. Old-timers may recall Ibanez was quite enamored with banjo-building, having even collaborated on an artist signature model with the late great Earl Scruggs.

Now, with the Ibanez B200 you get a sweet 5-string closed-back banjo at a price that wont break the bank. It features a basswood rim with 24-lug configuration, a rolled brass tone ring and mahogany resonator. The mahogany neck has a rosewood fingerboard with mother-of-pearl inlay. Chrome banjo tuners lend a vintage note while keeping things in tune.
Specifications
Neck Dimensions
Scale: 670mm
Width at Nut: 32mm
Width at joint: 46mm
Thickness at 1st: 21mm
Neck thickness at 7th: 22mm
Radius: Flat
Body Dimensions
Length: 14"
Width: 14"
Max Depth: 4-5/16"
Features
Type of banjo: 5-string banjo
Coodinator rod: Double
Rim: Basswood block rim
Resonator: Mahogany
Neck: Mahogany
Fretboard: Rosewood
Resonator binding: ABS-Multi
Inlay: Acrylic pearl block inlay
Tuning machine: Friction banjo tuner
Number of frets: 22
Armrest: Chrome with etching
Bridge material: Rosewood and maple
Tailpeice: Chrome clamshell tailpeice
Finish - Rim: Gloss
Finish - Resonator: Gloss
Finish - Neck back: Gloss