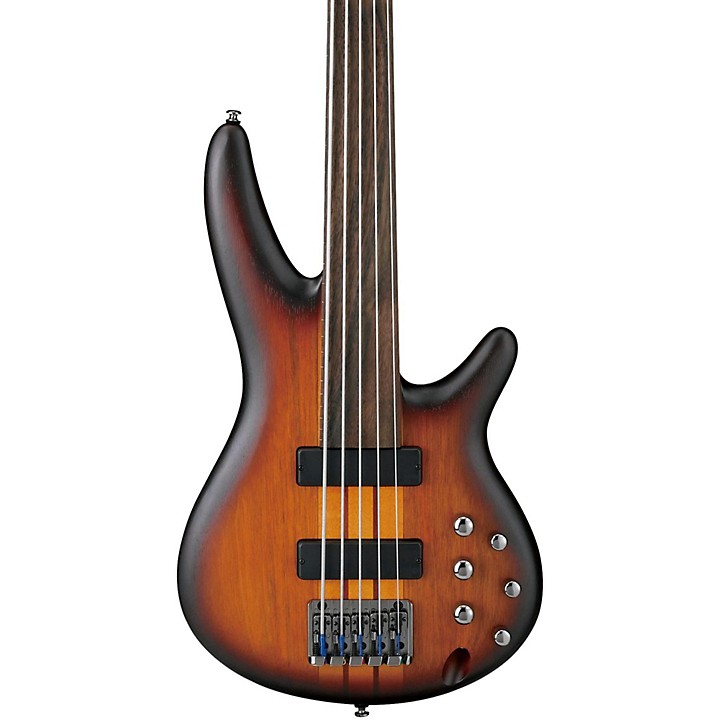 The highly sought-after fretless SR Portamento 5-string with smooth tone is finally available at a great price.
Over 25 years ago, the SR established Ibanez as the leader in innovative bass building. Throughout the years, Ibanez made fretless versions of this classic for a limited number of esteemed Ibanez artists. Now, the Ibanez Bass Workshop makes this much sought after option available to SR players everywhere with the introduction of the SR Portamento.

The SR Portamento offers a Panga Panga fingerboard that extends the length of the standard SR neck to a hefty 30-fret length. Several years in the making, the SR Portamento's new AeroSilk piezo system delivers an uncanny touch of hollow-bodied openness, and realizes the innovative Upright Double Bass sound to blend into the mix that both inspires and redefines the role of the solid body bass.

30 Fret Neck
The SR Portamento features an extended 30-fret Panga Panga fretboard for playing in upper registers usually only accessible on an upright.

5pc SR Maple/Bubinga Thru-Neck
The SR Portamento features 5-piece Maple/ Bubinga thru-neck for increased sustain and superior tone.

Piezo Level Control
On the back of the SR Portamento are recessed controls assigned to each individual string to control the volume of the Ibanez-exclusive AeroSilk Piezo pickup. Perfect string balance and response can be achieved by adjusting the volume to accommodate different string gauges.

Custom bridge for AeroSilk Piezo System
The Custom bridge is created specifically for the optimum performance of the AeroSilk Piezo pickup system. Unique plastic saddles were designed to work in concert with the piezo pickups and enhance the acoustic "stand-up" quality of the sound.

Bartolini MK-1 Pickups
The MK-1 pickups are a split coil design that provides a very wide frequency range and enhanced definition for maximum accuracy. The Neck and bridge pickups have equal response, like traditional single coils, but without the hum and noise.

AeroSilk Piezo system w/Active tone control
The EQ section incorporates the controls of the Bartolini pickups with the AeroSilk Piezo system. Controls include a neck volume, bridge volume and bass & treble controls for the Bartolini MK-1 pickups and a Master volume and a tone control for the Piezo system.

Specifications
neck type: SRF5 5pc Maple/Bubinga neck-thru
body: Mahogany wing body
fretboard: Panga Panga fretboard
fret: Fretless
bridge: Custom bridge for AeroSilk Piezo system
neck pu: Bartolini MK-1 neck pu (Passive)
bridge pu: Bartolini MK-1 bridge pu (Passive)
equaliser: Ibanez 2-band eq
hardware color: Cosmo black
Neck Dimensions
Scale: 864mm/34"
Width at Nut 38mm
Width at Last Fret 62mm
Thickness at 1st 21.5mm
Thickness at 12th 23.5mm
Radius 305mmR
Features
Solidbody bass
Panga Panga fingerboard with 30-fret length
AeroSilk piezo system for realistic acoustic tones
Case sold separately