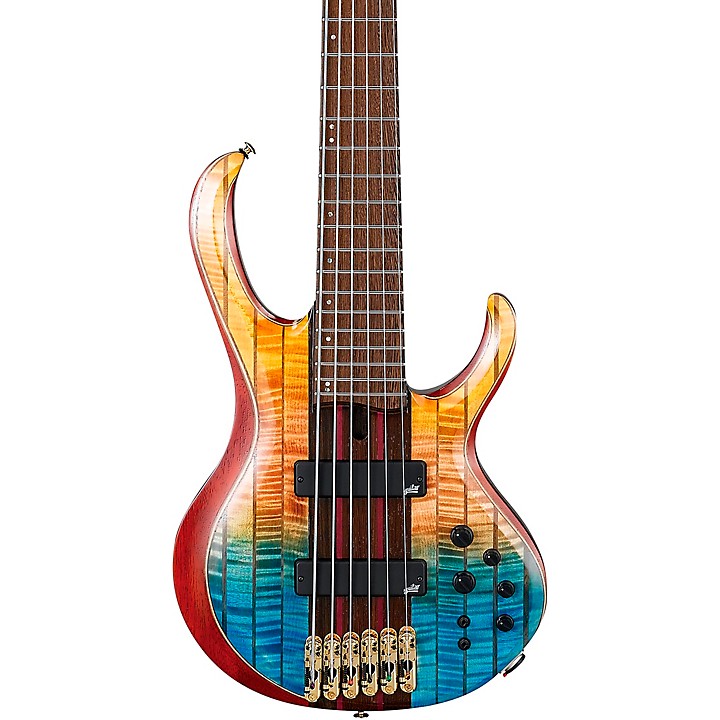 Premium tonewoods, active electronics and precision hardware.
The Ibanez BTB1936 is part of the Premium BTB line, featuring Curley Maple with Walnut stripes top & back. The African Mahogany body features a superior tonal clarity and sound. The sleek body has a curved bevel that helps create a more elegant feel.

The stainless frets are for high durability and bright tone, and it features a zero fret for accurate intonation and minimal string height. The zero fret also helps open string sounds to be the same as other frets. The MR5 bridge allows for a wide intonation adjustment range, and each isolated bridge is securely locked down to the body for maximum vibration transfer without interference.

The Ibanez Custom Electronics 3-band EQ, EQ bypass switch, and 3-way mid frequency switch allow for precise tonal control (250 Hz, 450 Hz, and 700 Hz). When the EQ bypass is activated, the treble-tone control knob works as a passive tone control for the instrument's output. The AguilarDCB pickups provide well-developed overtones, singing sustain in the body, and note decay. The dual ceramic bar magnets equipped in the pickups provide a dynamic and responsive attack.

The combination of the EQ and the Aguilar pickups promises superior tonal possibilities for any playing situation. D'Addario NYXL strings are installed, featuring a dynamic range and harmonic response. The deep cutaway of the lower horn allows effortless access to higher frets. The 18th fret neck joint of the upper horn provides tonal sustain and neck stability.

The BTB's 35-inch through-neck is constructed with 7 pc of Panga Panga and Purpleheart and features 2 Graphite rods inside the neck for added stability. Moreover, the neck end adjustment allows you to adjust the neck easily. The extended scale length helps create a clear sound and sufficient string tension for the lower strings while adding ringing sustain to the upper strings.

Other features include a Premium fret edge treatment, secure high-tech Neutrik locking output jack, and Gotoh machine heads. A gig bag is included.

Specifications
BTB6 7pc Panga Panga/Purpleheart neck-through with Graphite reinforcement rods
889mm/35" scale
Curly Maple/Walnut top/African Mahogany wing/Curly Maple back body
Bound Panga Panga fretboard with Abalone off-set dot inlay
Medium Stainless Steel frets w/Premium fret edge treatment
Aguilar DCB pickups
Ibanez Custom Electronics 3-band EQ
EQ bypass switch (passive tone control on treble pot)
3-way Mid frequency switch
MR5S bridge (19mm string spacing)
Gold hardware
Gig bag included