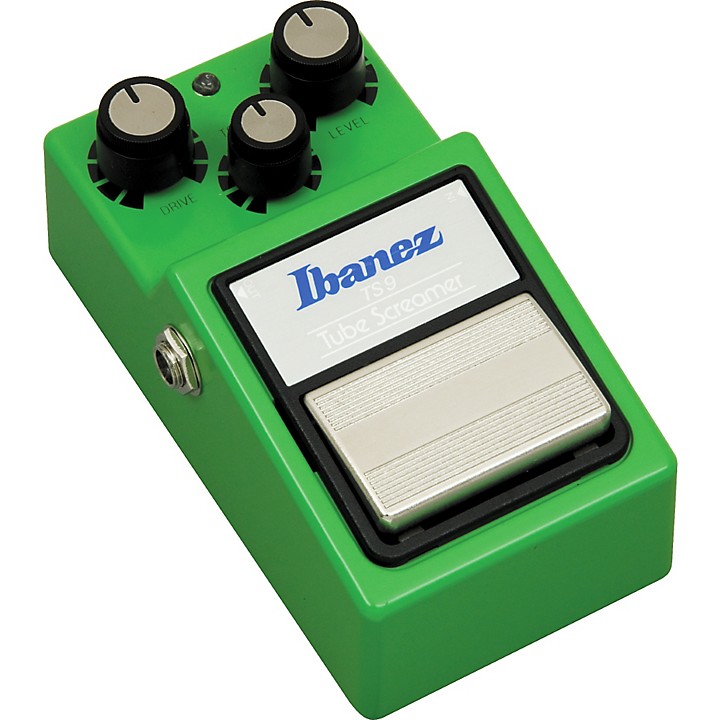 1-1/2 lbs. of overdrive anarchy.
The Ibanez TS9 Tube Screamer reissue distortion/overdrive pedal delivers the iconic tone that defined the sound of rock. The TS9 Tube Screamer recreates the classic stompbox distortion and overdrive effect of the original model. Made in the same factory with the same components, the TS9 Tube Screamer provides warm, amp-like overdrive that is touch sensitive and ready to rip. Guitar players craving vintage-inspired grit and sustain can now experience the legendary tone that shaped musical history.


Authentic Tube Screamer Circuitry
This reissue features the same circuitry that gave the original Tube Screamer its coveted tone. The TS9 Tube Screamer recreates the smooth, natural overdrive and sustain that shaped the sound of rock music. With tone, drive, and level controls, guitarists can dial in the perfect amount of breakup and gain.


Iconic Seasick-Green Stompbox
Encased in the same iconic green stompbox, the TS9 Tube Screamer delivers nostalgic style and the familiar controls that generations of guitarists have relied on. The TS9 Tube Screamer brings players back to a time when plugging straight into an amp and stomping on a pedal was all you needed to achieve legendary tone.


Road-Ready and Gig-Tested
Built to withstand the rigors of the road, the TS9 Tube Screamer is a gig-ready stompbox that delivers consistent performance gig after gig. With a 9V battery or external power supply, the TS9 Tube Screamer is ready to deliver its distinctive overdrive at a moment's notice.


A Toolbox of Tone
Whether used as a boost to push an amp into overdrive or to add sustain and grit, the TS9 Tube Screamer is an essential tool for shaping tone. Guitarists can use the TS9 Tube Screamer on its own or stack it with other pedals to achieve a signature sound. With a timeless design and circuit, the Ibanez TS9 Tube Screamer reissue gives modern players access to a legendary tone.


Features
Classic tone
Tone, drive, and level controls