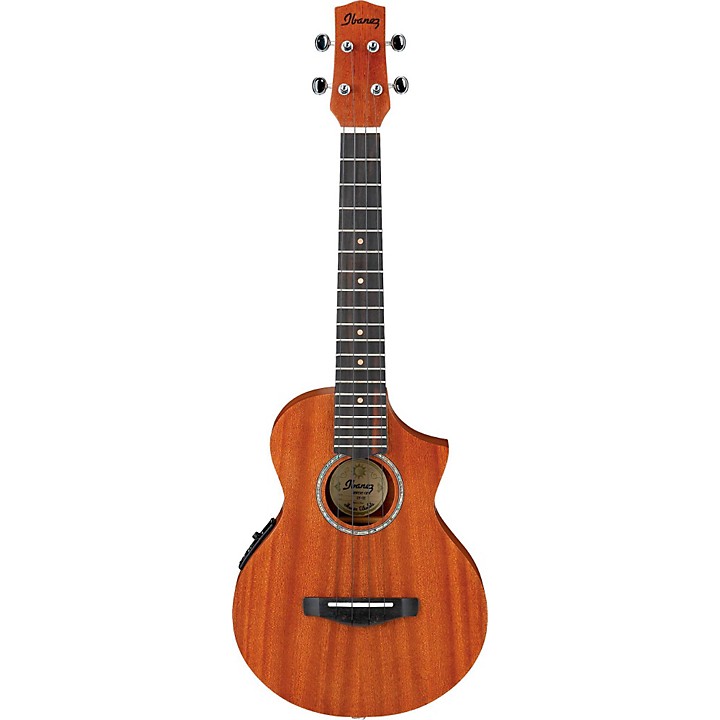 Great all-mahogany uke with cutaway body onboard electronics.
Once thought of as a novelty from a bygone era, the ukulele has made an astounding rebound in popularity in recent years. The adoption of this diminutive 4-string instrument by many of today's popular artists has introduced the uke to a whole new generation of fans and created a legion of contemporary enthusiasts. While capable of producing beautiful, sophisticated music, the ukulele is also a very accessible instrument. With only four nylon strings, it's easy to play and a breeze to learn.

The UEWT5E is a Tenor-size ukulele with a built-in pickup and preamp for amplified performance and a cutaway EW body style to allow access to the higher frets (Tenor ukes are larger than Concert and Soprano instruments). It consists of mahogany top, back and sides and sports an open pore natural finish, which optimizes string vibration and enhances the instrument's sound. Electronics feature a UK300T preamp with an onboard tuner and an Ibanez under-saddle pickup. The UEW5E also includes a beautiful abalone rosette, a rosewood fretboard, and Grover open gear tuners.

Case sold separately.
Features
Cutaway Tenor Style EW body
Mahogany top
Mahogany back and sides
Rosewood fretboard
Rosewood bridge
Abalone rosette
Grover Open Gear tuners
Open Pore Natural finish
Ibanez preamp with onboard tuner

Aquila NYLBLACK strings