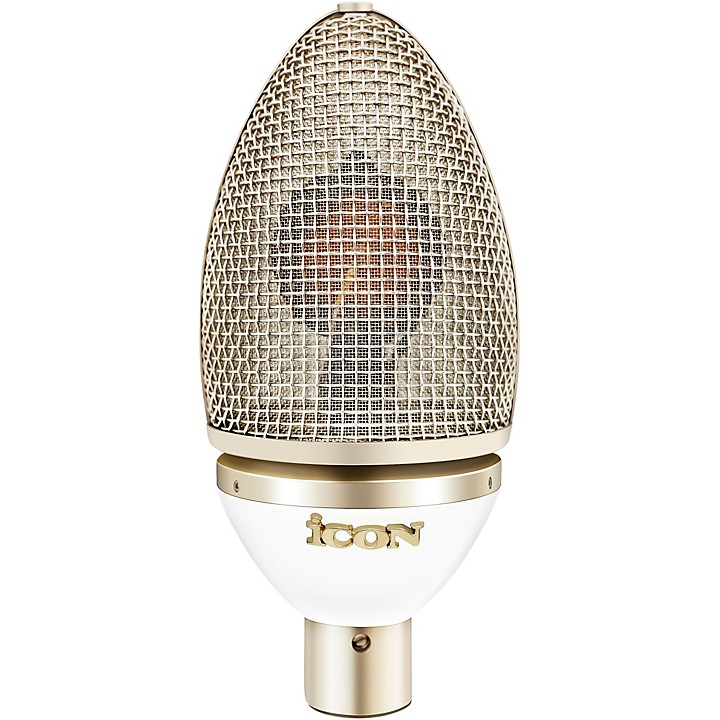 Vintage-sounding clarity and warmth with a bold design.
The Icon Cocoon large diaphragm condenser microphone incorporates a true electrostatic Golden Drop transducer within its space age capsule architecture. This innovative technology allows the diaphragm to move with laser sharp precision for increased intelligibility while simultaneously reducing any coloration or distortion. An advanced shock mount technology neutralizes unnecessary vibrations to preserve the integrity of your signal, insuring an optimum recording experience. The Class "A" discrete electronics are built by hand in Latvia using only the highest quality components for peak performance, superlative durability and extremely low self noise. The thin, ultralight membrane is fabricated with pure 999 gold.
Specifications
Transducer Type: Electrostatic
Operating principle: Pressure gradient
Polar Pattern: Cardioid
Diaphragm's active diameter: 34 mm
Frequency Response: 20 Hz – 20 kHz
Sensitivity at 1 kHz: 21 mV/Pa
Output Impedance: 50Ω
Suggested load impedance: > 500 Ω
Rate Load Impedance: 1000 Ω
Maximum SPL for 0.5% THD at 1000 Ω load: 138 dB
S/N Ratio: 85 dB-A
Equivalent noise level: 8dB-A
Dynamic Range: 130 dB
Power Requirement: + 48V DC Phantom Power
Current consumption: < 2mA
Output connector: 3-pin XLR male
The diaphragms active diameter: 35 mm
Dimensions: 2.7" L x 2.6" W x 5.9" H
Weight: 0.71lb.
Features
Premium quality 1" cardioid condenser microphone
Extended upper clarity with smooth mid-range for any voice or instrument applications
Professional hand-build large diaphragm Golden Drop capsule provides crystal clear and transparent sound without harshness
Class A discrete electronics for maximum performance, durability and extremely low self-noise
Pressure-gradient transducer with shock-mounted capsule
External 36-52 Volt phantom power operation
Heavy-duty suspension mount and Aluminum transport case included
Ultra-rugged construction with metal body
High-quality components and exceptionally rugged construction ensure long life