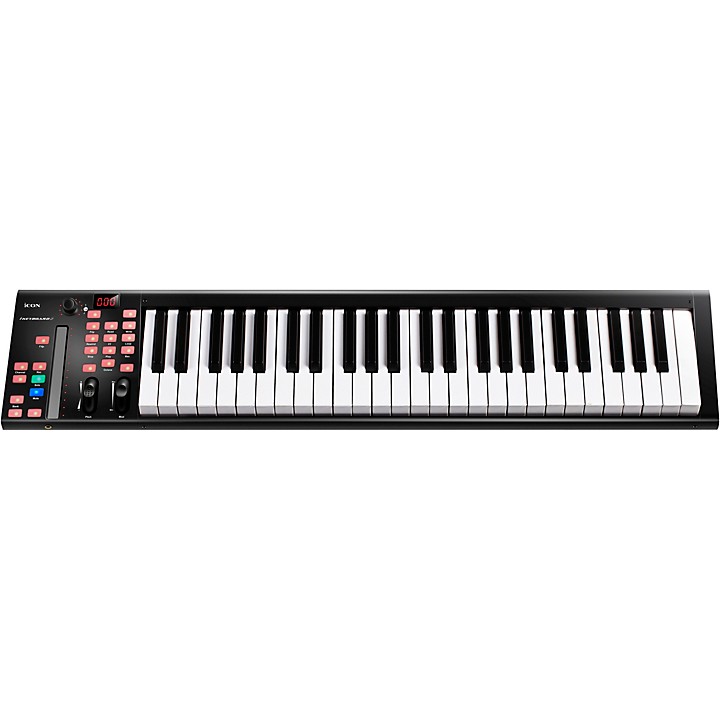 49 full-sized, semi-weighted keys with a single channel DAW controller.
The Icon Pro Audio iKeyboard 5X combines 49-key piano keyboards with a single-channel DAW controller in a rugged metal enclosure. Unlike many keyboard controllers with small plastic keys, the full-sized, semi-weighted keys provide realistic piano action. The controller also provides pitch bend and modulation wheels, and Octave and Transpose up/down buttons.
The iKeyboard 5X has all the controls you need right at your fingertips. The controller section features a touch fader with LED feedback to control and automate levels and other parameters, plus mute, solo and rec buttons, with track and bank selection. The Backlit LED touch fader reacts in real time with your DAW. It will synchronize automatically with different channel values when switching between channels.
A full transport is provided for playback, recording, looping, and changing automation modes. The large rotary encoder with LED ring can be used for panning, setting send levels, controlling plug-in parameters, and more.
The Icon Pro Audio iKeyboard 5X comes bundled with
free recording software, such as Harrison 32C Vocal Intensity Processor, a "greatest hits" collection of features from Harrison's analog console heritage, Harrison AVA plug-ins and Mixbus32C workstation; Tracktion DAW Essentials, a collection of 16 contemporary FX plug-ins for use with any DAW; Dotec Audio plug-ins for streaming, podcasting, recording and mixing; and Bitwig Studio 8-Track, the trim and effective digital audio workstation to start producing, performing, and designing sounds like a pro, all available via download upon purchase and registration.
Specifications
Keyboard
Number of keys: 49
Action: Piano
Key size: Full
Velocity sensitive: Yes
Connectivity
MIDI I/O: Out
USB: Yes
Pedal inputs: Yes
iOS compatibility: Yes
Controls
Encoder: Yes
Drum pads: None
Pitch bend/Modulation: Both
DAW transport: Yes
Onboard Features
Display: 3-segment LED screen
Bundled Software: Cubase LE, iMap
Other
Width: 33.9 in.
Height: 2.91 in.
Depth: 7.44 in.
Weight: 8.82 lb.
Features
Powerful controller equipped with Mackie Control and HUI protocol
Backlit LED touch fader reacts in real time with DAW
Synchronize automatically with different channel value when switching between channels
Dual function encoder knob (Enter and rotate)
11-segment LED surrounding the encoder to indicate the rotating position
Velocity-sensitive piano style keyboard
Modulation and Pitch jog wheel
3-segment LED screen
18 assignable LED backlit buttons
Illuminated channel buttons including Rec-enable, Solo and Mute
6 illuminated transport buttons including Play, Stop, Rec, Rewind, Fast forward and Loop
Octave up/down buttons
Transpose up/down buttons
Multi velocity curves available for selection (Key and Pads)
MIDI output jack
Expression and sustain pedal TRS connectors
Sustain pedal connector polarity reversible
Class-compliant with Windows 7, 8 and 10 (32-bit and 64-bit), Mac OS X (IntelMac) and iOS
USB 2.0 high-speed connectivity
Mackie control build-in for Cubase, Nuendo, Samplitude, Logic Pro and Abelton Live
Mackie HUI protocol build-in for Pro Tools
iMap software included for easy mapping of MIDI functions
Free Software Included
Harrison 32C Vocal Intensity Processor, a "greatest hits" collection of features from Harrison's analog console heritage, Harrison AVA plug-ins and Mixbus32C workstation
Tracktion DAW Essentials, a collection of 16 contemporary FX plug-ins for use with any DAW
Dotec Audio plug-ins for streaming, podcasting, recording and mixing
Bitwig Studio 8-Track, the trim and effective digital audio workstation to start producing, performing, and designing sounds like a pro, all available via download upon purchase and registration
Operating system compatibility
Class-compliant with macOS Big Sur (M1 and Intel Compatible), Windows 10, and Windows 8/7 (32 & 64-bit)
Firmware upgrade available simply via USB connection and iMap software
Robust metal casing with Kensington lock port