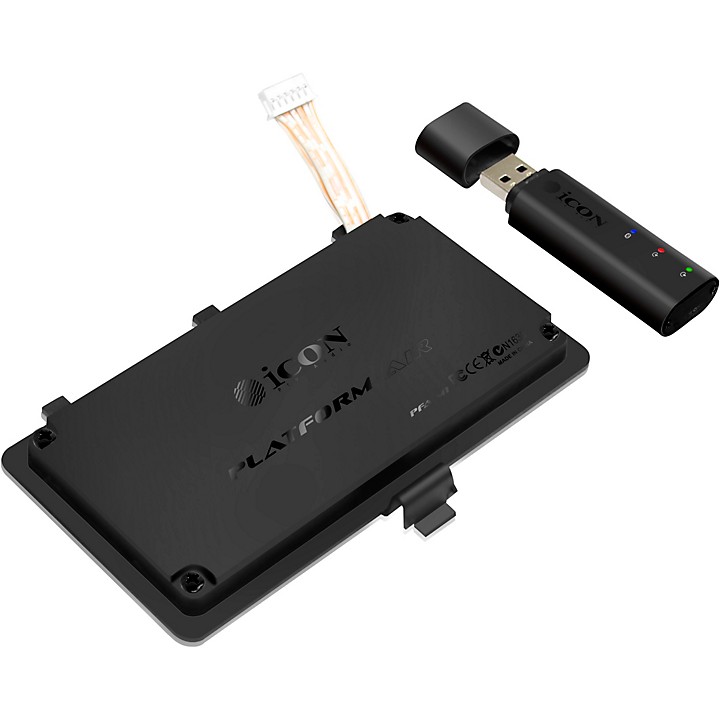 When you need to use the control surface away from the computer.
The Icon Pro Audio Platform Air is an add-on module for the Platform Nano control surface
that adds battery power and wireless communication capability, for completely cable-free operation.
This is ideal when you need to use the control surface away from the computer, such as in a live room
or vocal booth, or in a live venue to make sound adjustment while walking around the room.

The Icon Platform Air works on 2.4GHz Gen4.0 BLE (Bluetooth Low Energy) wireless protocol and includes
a USB receiver for wireless pairing with your computer. Installing it is as easy as removing the module cover
from the bottom of the Platform Nano and connecting the ribbon cable connector.

The 3000mAh Li-ion polymer rechargeable battery provides up 6 hours of continuous power when using motorized fader automation and while providing power to the optional Platform D3 LCD display. The USB receiver features a 4 color LED battery level indicator. This is ideal for tracking engineers to monitor the battery level of the artist's
control surface. The battery can be charged using the mini-USB port on the back of the Platform Nano.




Features
Optional module provides battery power and wireless connectivity to the Platform Nano
2.4GHz Gen4.0 BLE (Bluetooth Low Energy) wireless protocol
Compact USB Bluetooth receiver with automatic wireless pairing
3000mAh Li-ion polymer rechargeable battery
Up to 6 hours continuous battery powered operation when using automation and optional Platform D3 display
4 color LED for battery level indicator
Mini-USB port to charge the battery with mobile phone adapter or power pack
Works exclusively with Icon Platform Nano